South Side Openings + Events
Join us for the official kick-off to EXPO ART WEEK on Tuesday, April 11 with an evening of openings, exhibitions and performances on Chicago's vibrant South Side. Guests are encouraged to explore the many galleries, museums, and exhibition spaces in this dynamic community of arts and culture.
Explore more on aligning exhibitions and events during EXPO ART WEEK, April 10–16, with the EXPO ART WEEK Map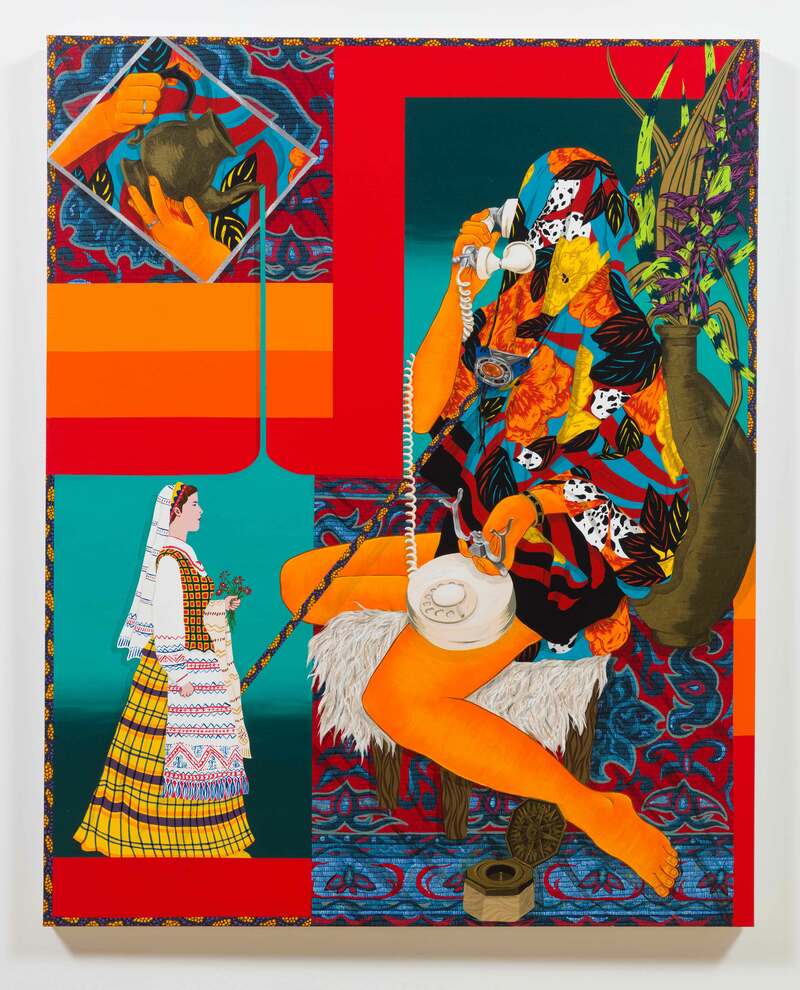 Amir H. Fallah, Calling on the Past, 2018, Acrylic on canvas. Smart Museum of Art, The University of Chicago.
Gift of the 2018 Northern Trust Purchase Prize.
A Toast to the South Side
Extended Hours | 5:00–6:30pm
Remarks | 5:45pm
The Study at the University of Chicago | 1227 E 60th St
Gather at The Study at University of Chicago for an official toast to kick-off EXPO ART WEEK before exploring South Side exhibitions and special programs. Toast to the South Side with a specialty EXPO CHICAGO cocktail and return to Truth Be Told, nestled off the lobby of The Study with a valid EXPO ticket or VIP pass April 11–16 for a buy-one get-one cocktail, beer, or wine by the glass.
"where the light corrupts your face..."
Extended Gallery Hours | 4:00–7:00pm
South Side Community Art Center | 3831 S Michigan Ave
In this exhibition, Chicago-based artists Roland Knowlden, Andres L. Hernandez, and Tonika Lewis Johnson explore the social, cultural, and racial implications of built spaces and natural environments. Encompassing elements of drawing, painting, collage, installation and architecture, both artists draw upon the possibilities of new spatial realities and speculative futures.
Diaspora Stories: Selections From The CCH Pounder Collection
Extended Gallery Hours + Walkthroughs | 4:00–9:00pm
The DuSable Black History Museum & Education Center | 740 E 56th Pl
Join Danny Dunson of Legacy Brothers for guided tours throughout the evening of Diaspora Stories: Selections From The CCH Pounder Collection, featuring works from Mickalene Thomas, Kehinde Wiley and more. The CCH Pounder Collection is an ongoing, living narrative of ancestral memory and cultural tethers that connects African Americans to the Black Diaspora. As a native of Guyana, Pounder connected to the true story of Equiano, who spent much of his enslaved life in Barbados. Equiano's story contains observations of African-centered cultural practices retained by enslaved Africans in multiple regions throughout the Americas, such as Brazil and Venezuela. Admission free for EXPO ticketholders + VIPs.
Artifacts Also Die
Extended Gallery Hours | 4:00–7:00pm
Institute for the Study of Ancient Cultures (ISAC) | 1155 E 58th St
Join the Institute for the Study of Ancient Cultures (ISAC) for a private after-hours viewing of the special exhibition, Artifacts Also Die. This exhibition is part of the ongoing research project—Ruins, Rubble, And Renewal: Co-existent Ruins–Exploring Iraq's Mesopotamian Past Through Contemporary Art, led by the Iraqi-British artist and academic Hanaa Malallah, founder of the project, working in collaboration with local Iraqi artists at specific ancient sites in Iraq. Also on view is an installation, The invisible enemy should not exist, by internationally acclaimed contemporary artist Michael Rakowitz. As part of his series, the Iraqi-American artist collaborated with ISAC to create a reappearance of a relief from the Northwest Palace at Nimrud, destroyed by Isis in 2015, on view in the permanent galleries.
A leap has no return
Extended Gallery Hours | 5:00–8:00pm
Blanc Gallery | 4445 S Martin Luther King Dr
Sigils promise to hinge the material to the ethereal world. For her exhibition at Blanc Gallery, Maryam Taghavi borrows sigils from the Islamic occult practice of simya, which is the arrangement of letter and number in order to evoke the metaphysical powers. Imbued with feminine desire, these forms transgress to collide with recognizable forms of the everyday from the digital and material environments. This exhibition attempts to imagine wish fulfillment centered on women's desire which ultimately subverts the patriarchal lineage of this belief system. In this exhibition both on surface and within the space, the sigils become a linguistic net to catch and harness the invisible in defiance of patriarchal domination. This exhibition nods to the Womxn, Life, Freedom revolution of Iran that bravely imagines new territories for women's desire.
But Is It a Book? A Choose-able Path Exhibition
Extended Gallery Hours | 5:00–9:00pm
Meet the Curator | 6:00pm
The University of Chicago Library, Special Collections Gallery | 1100 E 57th St
One of life's most familiar objects, the codex book, is also one of the most innovative and adaptable technologies for making and sharing meaning devised by humankind. But what makes a book a book? Must it have pages, text, and a rectangular shape to qualify? But Is It a Book? is a choose-able path exhibition that investigates the nature of the material text, considering examples from the long arc of book history, from the clay tablet to the contemporary artist's book. Meet curator Elizabeth Frengel, Curator of Rare Books, in the gallery for discussions about the exhibition.
Aria Dean: Abattoir, U.S.A!
Extended Gallery Hours | 6:00–8:00pm
Curatorial Walkthrough | 6:15pm
The Renaissance Society | 5811 S Ellis Ave
Drawing from her long-term research on agricultural and industrial architecture, Aria Dean presents a new film surveying the interior of an American slaughterhouse. The work considers the importance of these structures in the development of modernist architecture and urban design, influencing the work of a generation of European architects such as Walter Gropius and Le Corbusier. The omission of the slaughterhouse, or abattoir, from this narrative leads to questions about the relationship between modernism and death, as Dean engages with one such site and its entanglements with fundamental questions of humanity. Curated by Myriam Ben Salah with Karsten Lund and Michael Harrison.
The Chicago Cli-Fi Library
Extended Gallery Hours | 5:00–9:00pm
The Neubauer Collegium for Culture and Society | 5701 S Woodlawn Ave
Climate change is a great existential crisis for humanity, yet the apocalyptic prospect of global warming and its consequences hardly make themselves felt in the mainstream of cultural production. The Chicago Cli-Fi Library is a modest attempt to make sense of this creative paralysis, suggesting that art's response to the complexity and enormity of the issue at hand can only ever be piecemeal, ad hoc, and hyper-localized–– all of which must be understood as virtuous. Named after the emerging literary genre of "climate fiction," or "cli-fi," and accordingly bookish in both conception and outlook, this exhibition features the work of Chicago-based artists Beate Geissler + Oliver Sann, Jenny Kendler, Iñigo Manglano-Ovalle, and Dan Peterman. Curated by Dieter Roelstraete.
2023 BA Thesis Exhibition
Extended Gallery Hours | 5:00–9:00pm
Logan Center Exhibitions | 915 E 60th St
The University of Chicago's Department of Visual Arts and Logan Center Exhibitions present the 2023 BA Thesis Exhibition featuring works by Collin Amelsberg, Evelyn Andreoli, Savannah Bowman, Non Charoenwattanan, Trent Davis, Caitlin Ellithorpe, Rachel Hardy, Anatoli Karapanagio, Jane Kelly, Akwe McDaniels, Amy Medrano, Cecile Ngo, and Matthew Sumera. Presented by DoVA and Logan Center Exhibitions with the support of UChicago Arts.
SURVIVING THE LONG WARS: Unlikely Entanglements
Extended Gallery Hours | 6:30–8:00pm
Curatorial Tour | 6:30pm
Artist Talk | 7:15pm
Hyde Park Art Center | 5020 S Cornell Ave
Join curators and artists of SURVIVING THE LONG WARS for a curatorial tour and talkback exploring themes of the exhibition. The tour and talk will touch on the multiple, overlapping histories that shape our understanding of the impacts of warfare.
The Beautiful Ones Are Not Yet Born
Opening Reception | 6:00–9:00pm
Arts + Public Life | 301 E Garfield Blvd
APL presents artist zakkiyyah najeebah dumas-o'neal's new body of work. Focusing extensively on notions of embodiment, alternative modes of movement, imagining technologies, intimacy and collectivity in physical and digital spaces, dumas-o'neal, an APL artists-in-residence alumnae, debuts new video and photo work. A supplementary exhibition at the Arts Incubator gallery will celebrate the start of EXPO CHICAGO. In support of APL's new cohort of L1 Creative Entrepreneurship Fellows, exclusive discounts and free merchandise will be offered to EXPO guests.
Opening Celebration: Calling on the Past
Extended Gallery Hours | 5:00–9:00pm
Opening Reception | 6:00pm
Remarks + Curatorial Walkthrough | 6:30pm
Performances + Gallery Talks | 7:00–9:00pm
Smart Museum of Art, The University of Chicago | 5550 S. Greenwood Avenue
An evening of art, performance, and conversation in celebration of the special exhibition Calling on the Past: Selections from the Collection. The after-hours reception features performances by puppetry artist Samuel J. Lewis II and poet Audrey Petty as well as gallery talks. Exhibitions on view also include: not all realisms: photography, Africa, and the long 1960s; and The Metropol Drama.