EXPO ART WEEK 2023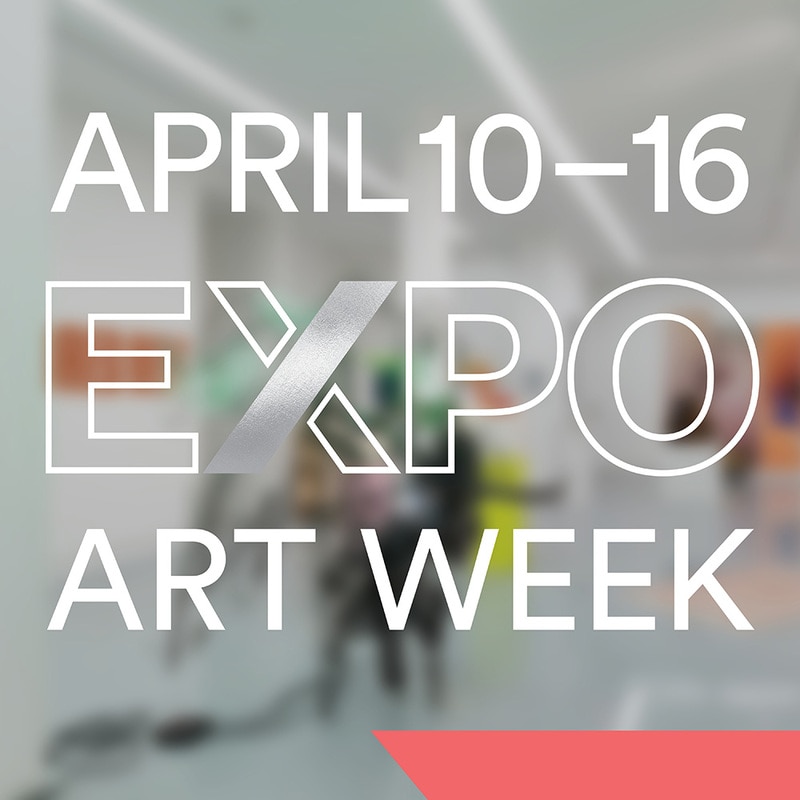 Highlighting the vast cultural opportunities that Chicago offers collectors, dealers, art enthusiasts and visitors, EXPO CHICAGO—in conjunction with Choose Chicago, the city's tourism and marketing organization and Chicago's Department of Cultural Affairs and Special Events (DCASE)—presents EXPO ART WEEK (April 10—16, 2023). With the exposition as its centerpiece, EXPO ART WEEK annually partners with the city's most prestigious institutions to feature select aligned programming, including museum exhibitions, gallery openings, and more.
Explore Featured Alignments presented by institutional partners, galleries, and non-profits; engage with exhibitions, performances, and curator walk-throughs included in EXPO ART WEEK Programs and South Side Openings + Events; view curated film Screenings and Q&As in collaboration with the Gene Siskel Film Center, and immerse in city-wide extended gallery hours during Art After Hours.
---
EXPO ART WEEK Map
Navigate EXPO ART WEEK, including aligning exhibitions, events, and the best locations to view OVERRIDE | A Billboard Project and IN/SITU Outside.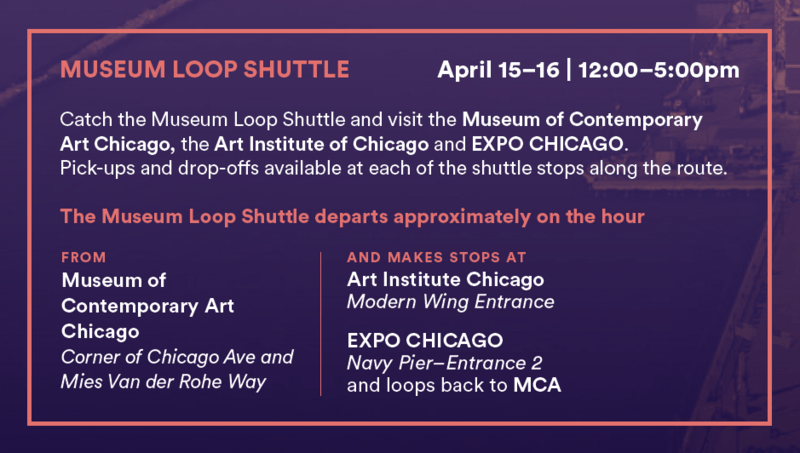 2023 Exhibition Alignments
---
LOOP / WATER TOWER
21c Museum Hotel Chicago | 55 E Ontario St
OFF-SPRING: New Generations
American Writers Museum | 180 N Michigan Ave
Dark Testament: A Century of Black Writers on Justice
The Art Institute of Chicago | 111 S Michigan
Himali Singh Soin: Static Range
Lygia Pape: Tecelares
Salvador Dalí: The Image Disappears
Kwame Brathwaite: Things Well Worth Waiting For
stanley brouwn
Gio Swaby: Fresh Up
ART on THE MART | 222 W Merchandise Mart Plaza
Art on theMART 2023 Premiere of Derrick Adams: Funtime Unicorn, presented in partnership with Rhona Hoffman Gallery
The Arts Club of Chicago | 201 E Ontario St
Jessi Reaves: All possessive lusts dispelled
Auditorium Theatre | 50 E Ida B Wells Dr
American Ballet Theatre
Buddy | 78 E Washington St
Art 4 Sale: Value Prints
C33-Columbia College Chicago | 33 E Ida B Wells Dr, First Floor
Natasha Moustache: Lerozyon (l-EURO-zhuhn) ​​​
Carl Hammer Gallery | 740 N Wells St
Gallery Artist Group Show
Chicago Architecture Center | 111 E Wacker Dr
REFRAMED: The Future of Cities in Wood
Chicago Cultural Center | 78 E Washington St
Giving Back: The Soul of Philanthropy Reframed and Exhibited
Surviving the Long Wars: Reckon and Reimagine
Elephant Room Gallery | 704 S Wabash Ave
Yams: Ways and Actions
Glass Curtain Gallery | 1104 S Wabash Ave | First Floor
The Taxonomy of Peggy Macnamara
Gallery Victor | 300 W Superior St
Art Shay | Richard Shay: Photographers
Museum of Contemporary Art Chicago | 220 E Chicago Ave
Duane Linklater: mymothersside
Enter the Mirror
Interiors
Forecast Form: Art in the Caribbean Diaspora, 1990s–Today
Museum of Contemporary Photography | 600 S Michigan Ave
Shift: Music, Meaning, Context
Newberry Library | 60 W Walton St
Pop-Up Books through the Ages
The Peninsula Chicago | 108 E Superior St
Neo Chicago
Poetry Foundation | 61 W Superior St
Alex Katz: Collaborations with Poets
The Richard H. Driehaus Museum | 40 E Erie St
Capturing Louis Sullivan: What Richard Nickel Saw
SAIC Galleries* | 33 E Washington St
2023 Spring Undergraduate Exhibition
Weinberg/Newton Gallery | 688 N Milwaukee Ave #101
For Those Without Choice
Zg Gallery | 300 W Superior St
Zg 2023 Spring Collection
NORTH SIDE
Alan Koppel Gallery | 806 N Dearborn St
Gregory Crewdson: Eveningside
DePaul Art Museum | 935 W Fullerton Ave
Art for the Future: Artists Call and Central American Solidarities
Graham Foundation | 4 W Burton Pl
Katherine Simóne Reynolds: A different kind of tender and the practice of overhealing
International Museum of Surgical Science | 1524 N Lake Shore Dr
Michael Lee Zirulnik: Strips & Needles—A Day in the Life
Deborah Simon: Embroidered Morphologies
Ralph Arnold Gallery at Loyola University | 1131 W Sheridan Rd
Invisible Architecture
The Salt Shed | 1357 N Elston Ave
Nikko Washington: Fight of the Century
Wrightwood 659 | 659 W Wrightwood
Kongkee: Warring States Cyberpunk
Shahidul Alam: Singed But Not Burnt
Patric McCoy: Take My Picture
SOUTH SIDE
Apparatus Projects | 1500 S Western Ave Suite 407
John Knight and Libby Rothfeld
Arts + Public Life | 301 E Garfield Blvd
The Beautiful Ones Are Not Yet Born
Blanc | 4445 S Martin Luther King Dr
A leap has no return
boundary | 2334 W 111th Place
Shona Macdonald: Weather Accents
Co-Prosperity Sphere | 3219 S Morgan St
Angela Davis Fegan: Deep Needle
SPACORE
The DuSable Black History Museum and Education Center | 740 E 56th Pl
Diaspora Stories: Selections From The CCH Pounder Collection
Good Weather | 1524 S Western Ave Ste. 119-121, Building A
Raque Ford: A Better Liar
COBRA: 彼らは、透明に、爽やかに、ただ酔いしれ、漂う目玉なのさ They're transparent, refreshing, just intoxicated, drifting eyeballs
Haynes Court | 3050 S Haynes Court
Prosthesis: Jillian Mayer, Martha Poggioli, Fin Simonetti, curated by Kristin Korolowicz
Hyde Park Art Center* | 5020 S Cornell Ave
SURVIVING THE LONG WARS: Unlikely Entanglements
Institute for the Study of Ancient Cultures (ISAC) | 1155 E 58th St
Artifacts Also Die
Michael Rakowitz : The invisible enemy should not exist
Logan Center Exhibitions | 915 E 60th St
University of Chicago DoVA 2023 BA Thesis Exhibition
Mana Contemporary Chicago | 2233 S Throop St
Jonas Mekas, Open Archives presented by Monira Foundation
Mind Map | Logan Kruidenier
National Museum of Mexican Art | 1852 W 19th St
Los huecos del agua - Recent Indigenous Art from Mexico
The Neubauer Collegium for Culture and Society | 5701 S Woodlawn Ave
The Chicago Cli-Fi Library
Prairie | 2055 W Cermak Rd
Shana Hoehn: Basket Toss
Produce Model | 1918 S Canalport Ave
Jackie Furtado and Jessica Tang: The table in the formal room takes the form of the room
The Renaissance Society* | 5811 S Ellis Ave, Cobb Hall, 4th Floor
Aria Dean: Abattoir, U.S.A.!
Smart Museum of Art at the University of Chicago | 5550 S Greenwood Ave
not all realisms: photography, Africa, and the long 1960s
The Metropol Drama
Calling on the Past: Selections from the Collection
South Asia Institute | 1925 S Michigan Ave
Testimonies on Paper: Art and Poetry of South Asian Women
South Side Community Art Center | 3831 S Michigan Ave
Andres L. Hernandez, Roland Knowlden, & Tonika Lewis Johnson: "where the light corrupts your face..."
The University of Chicago Library | 1100 E 57th St
But Is It a Book? A Choose-able Path Exhibition
WEST SIDE
65GRAND | 3253 W North Ave
Japeth Mennes: Waltz
ACRE Projects | 2439 S Oakley Ave
Eseosa Edebiri: Perhaps Blue is a Cool Color, After All
ANDREW RAFACZ* | 1749 W Chicago Ave
Jessie Edelman
Julia Bland
Anthony Gallery* | 1360 W Lake St
En Iwamura: Blue on the Hill
Cherry Mountain Arts | 836 N Milwaukee Ave
From Arte Haus To Yours
Chicago Artists Coalition | 2130 W Fulton St
Newcity's Breakout Artists–Twentieth Anniversary Edition Exhibition
Congruent Space | 1216 W Grand Ave
Grid Crib
Corbett vs. Dempsey* | 2156 W Fulton St
Sam Gilliam: Driftless
Jimmy Wright: Down Home
David Salkin Creative | 1709 W Chicago Ave #2A
Assaf Evron: Collage for Mies van der Rohe
Devening Projects | 3039 W Carroll Ave
Jodi Hays
Katrin Schnabl
DOCUMENT* | 1709 W Chicago Ave
Meg Lipke: Moon Tempo
ENGAGE Projects* | 864 N Ashland Ave
Adam Daley Wilson: THIS IS TEXT BASED ART
FACILITY | 3616 N Milwaukee Ave
Katrin Schnabl: EWNS
James Jankowiak: Happiness Is
Filter Photo | 1821 W Hubbard St, Suite 207
Context 2023
Goldfinch | 319 N Albany Ave
Irene Wa.: Crisálida de sal
Sarah Leuchtner: Sequential Escapes
A Flatfiles Show
GRAY | 2044 W Carroll Ave
Jaume Plensa: Forgotten Dreams
Hindman Auctions | 1550 W Carroll Ave
Spring Fine Art at Hindman
Ingress Gallery @ Soho House | 113–125 N Green St
Ingress Quarterly Showcase
Intuit: The Center for Intuitive and Outsider Art | 756 N Milwaukee Ave
Ted Degener: At Home with Artists
Tarik Echols: Open
Kavi Gupta* | 835 W Washington Blvd
Allana Clarke
Kavi Gupta* | 219 N Elizabeth St
Esmaa Mohamoud
Ken Saunders Gallery | 2041 West Carroll Ave, Suite C-320
Neon Infinite
LVL3 | 1542 N Milwaukee Ave, 3rd Floor
Must-See
M. LeBlanc* | 3514 W Fullerton Ave
Group Exhibition 2023
Mariane Ibrahim | 437 N Paulina St
Patrick Eugène: 50 LBS
McCormick Gallery | 835 W Washington Blvd
Kim Piotrowski: Joy Experiment
MICKEY | 1635 W Grand Ave
Michael Madrigali: Big City Nights
moniquemeloche* | 451 N Paulina St
Maia Cruz Palileo
National Hellenic Museum* | 333 S Halsted St
Gather Together: Chicago Street Photography by Diane Alexander White
HRH Prince Nikolaos: Resilience
Paris London Hong Kong | 1709 W Chicago Ave
Collection Highlights
PATRON | 1612 W Chicago Ave
Mika Horibuchi
The Plan | 610 N Albany
Let Me Be No Nearer: Andrew Bearnot with Morgan Green, Brian Jucas, Hai-Wen Lin, Jonathan Lanier, curated by Esther Espino, Jonathan Worcester
Povos | 2000 N Milwaukee Ave
Tony Fitzpatrick: The Lunch Drawings
Regards | 2216 W Chicago Ave
John Pittman
Rhona Hoffman Gallery* | 1711 W Chicago Ave
Spencer Finch
Roots & Culture Contemporary Art Center | 1034 N Milwaukee Ave
Anwar Mahdi & Val Schlosberg
Soccer Club Club | 2923 N Cicero Ave
Theodora Allen: Solitaire
Ukrainian Institute of Modern Art | 2320 W Chicago Ave
Aesthetics of Loss
Volume Gallery* | 1709 W Chicago Ave, 2nd Floor
Barbara Stauffacher Solomon: I DO
Watershed Studioworks | 3016 W Belmont Ave
Kelly Hisagi Rickert: That's How I Remember It
Western Exhibitions* | 1709 W Chicago Ave, Suite 2C
Richard Hull
CHICAGOLAND
Block Museum of Art at Northwestern University | 40 Arts Cir Dr, Evanston, IL
The Heart's Knowledge: Science and Empathy in the Art of Dario Robleto
THE COLLECTION at Fashion Outlets of Chicago | 5220 Fashion Outlets Way, Rosemont, IL
Candida Alvarez: zip me up
Presented by moniquemeloche*
Edith Farnsworth House | 14520 River Rd, Plano, IL
The Last of Animal Builders
(northern) Western Exhibitions* / WHO Modern | 7933 N Lincoln Ave, Skokie, IL
Miller & Shellabarger: Photography
Riverside Arts Center | 32 E Quincy St, Riverside, IL
Laura Kina: Over the Rainbow, One More Time
Regin Igloria: One Ends Another Begins
*Participating in EXPO CHICAGO