Featured Alignments
Navigate the sidebar for a calendar of EXPO ART WEEK aligning events.
Explore more on aligning exhibitions and events during EXPO ART WEEK, April 10–16, with the EXPO ART WEEK Map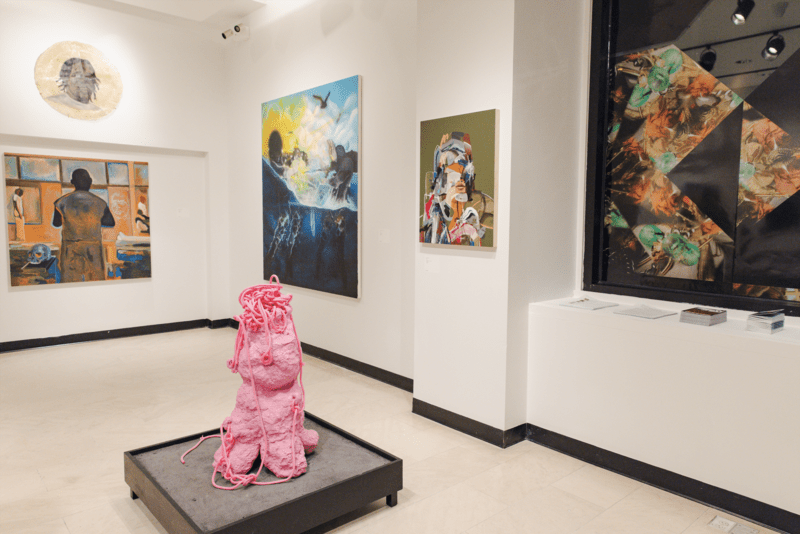 SKIN + MASKS
On-view through April 2023 ​​​​​
535 N Michigan Ave
SKIN + MASKS, curated by Vic Mensa and Chanelle Lacy, deploys a seminal text by Antilles-born author Frantz Fanon as a foundation for a group art exhibition aimed at decolonizing art beyond the politics of visibility. In his 1952 book Black Skin, White Masks, Fanon presented a psychoanalytical tour-de-force, exposing how colonization weaponized skin as an agent of alienation, imposing an existential divide on people.  SKIN + MASKS  features work by a range of Chicago-based contemporary artists who, like Fanon, are striving to understand and express the meaning of identity not from the vantage point of White gaze, but from the perspective of individual realities.  Acclaimed established and emerging artists featured in the show include AFRICOBRA co-founder Gerald Williams, Nikko Washington, Mia Lee, Thelonious Stokes, Lola Ayisha Ogbara and more.
SKIN + MASKS is made possible through the collaboration by EXPO CHICAGO and The Magnificent Mile® Association with Kavi Gupta Gallery. Special thanks to the City of Chicago for sponsorship. This program is also sponsored by the American Rescue Plan.
Image: Installation view of Skin + Masks, in collaboration with EXPO CHICAGO, The Magnificent Mile ® Association and Kavi Gupta.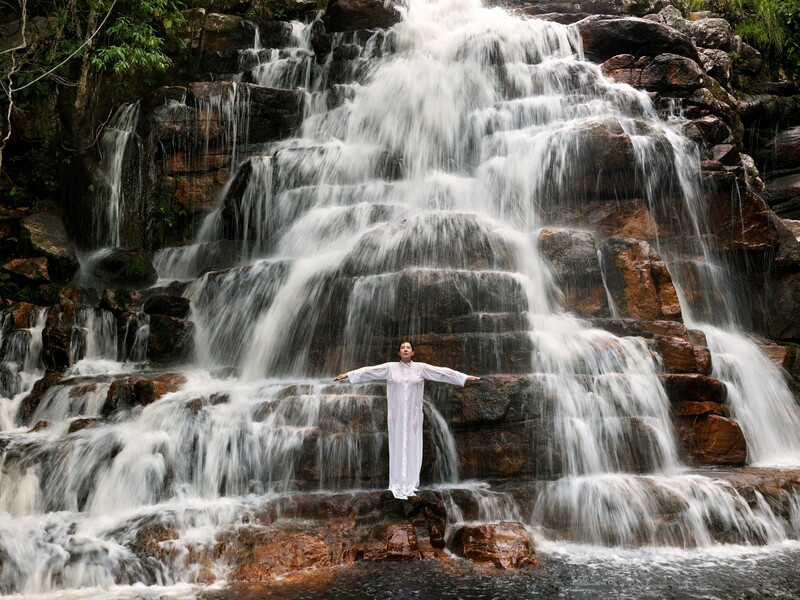 April 13–14 | 10:00am–5:00pm
April 15–16 | 10:00am–7:00pm
April 17–20 | 2:00pm–8:00pm
April 21–23 | 8:00am–10:00pm
Art in Common | 400 N. Peoria St.
Curator Zoe Lukov and cultural producer Abby Pucker, co-founders of the nonprofit creative enterprise Art in Common, present the newest iteration of the large-scale group exhibition, Boil, Toil + Trouble. The exhibition features work by over 50 contemporary artists in a multigenerational grouping that examines water through the lens of magic, ritual, and the role of the 'witch', or medium, in contemporary art. Free to the public, the travelling exhibition evolves to address water-related issues in each city it inhabits through new site-specific commissions and community-based programming. The exhibition pairs work by Chicago-based artists including Armani Howard and Ricardo Partida in conversation with rarely exhibited works by canonical artists Marina Abramović, Radcliffe Bailey, Niki de Saint Phalle, David Hammons, Maya Lin, Ana Mendieta, Bruce Nauman, and many more.
Image: Marina Abramović, Places of Power, Waterfall, 2013. Image credit: © Marina Abramović, courtesy of the Marina Abramović Archives and Sean Kelly.
Neo Chicago
April 13–Early June 2023
The Peninsula Chicago | 108 E Superior St
Neo Chicago is a contemporary art exhibition presented by The Peninsula Chicago, curated by Laura Dvorkin and Maynard Monrow. This exhibition is the second installment of the collaboration between The Peninsula Chicago, Beth Rudin DeWoody Collection, and EXPO CHICAGO which commenced in 2016. This exhibit celebrates Chicago galleries, their passion in showing world-renowned artists, and DeWoody's support of these cultural spaces over the past 20 years.
Image: Amy Sherald, All the Unforgotten Bliss (the Early Bird), 2017. Image courtesy of the artist, Beth Rudin DeWoody and The Peninsula Chicago.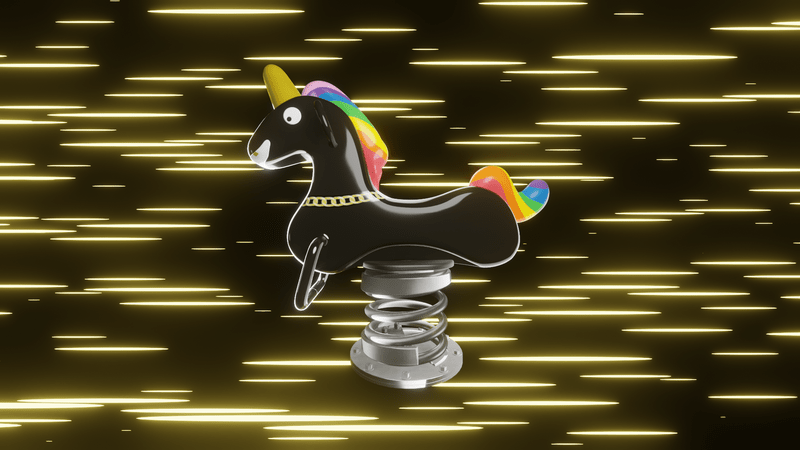 ART on THE MART
April 14
Projections | 8:30–10:00pm
Projected nightly April 14–July 5, 2023
The Merchandise Mart | Viewable along Chicago's Riverwalk
ART on THE MART, in partnership with Rhona Hoffman Gallery, presents the opening of Derrick Adams: Funtime Unicorn, viewable on Friday, April 14 at 8:30 pm. Projections are best enjoyed along the Chicago Riverwalk between Wells and Franklin Streets.
Image: Derrick Adams, Light Tunnel Flyer, 2023. Courtesy of Derrick Adams Studio and The Channel Design © 2023.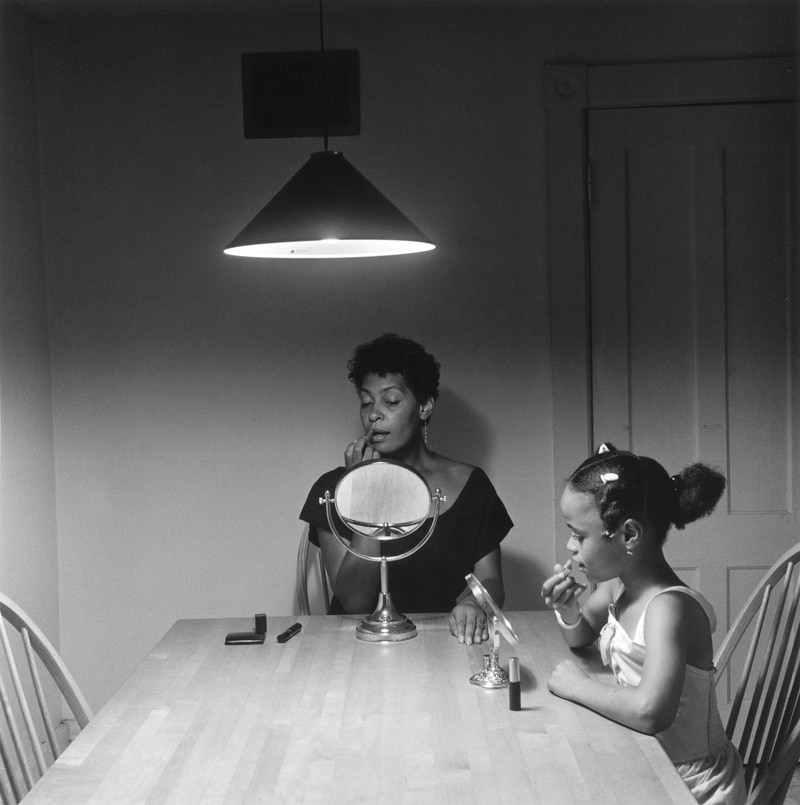 OFF-SPRING: NEW GENERATIONS
February 20, 2023–January 31, 2024
21c Museum Hotel Chicago | 55 E Ontario St
Rituals—religious and cultural, institutional and domestic—provide the thematic infrastructure for OFF-SPRING: New Generations. These sculptures, paintings, photographs, and videos employ iconographic imagery to explore the development of both personal and group identity, childhood, family, history, and gender politics. Presenting 100 multi-media artworks by 60 artists from across the globe , the exhibition highlights how ritual shapes identity, community, and institutions. At the wedding altar, in the family home, or in the classroom, within the fantasy of childhood play or the familiarity of grown-up habit, these transformations of iconic imagery offer a spectrum of meditations on the contemporary construction of self and society, generating a new power, the power of potential and change. Featured artists include Gehard Demetz, Angela Ellsworth, Lalla Essaydi, Anthony Goicolea, Rachel Lee Hovnanian, Li Hongbo, Ragnar Kjartansson, Kelly Kristin Jones, Deana Lawson, Hans Op de Beeck, Chiaru Shiota, Vee Speers, Carrie Mae Weems, and others.
Image: Carrie Mae Weems, Untitled (Woman and Daughter with Make Up), 1990. Silver print. Collection of Laura Lee Brown and Steve Wilson, 21c Museum Hotels.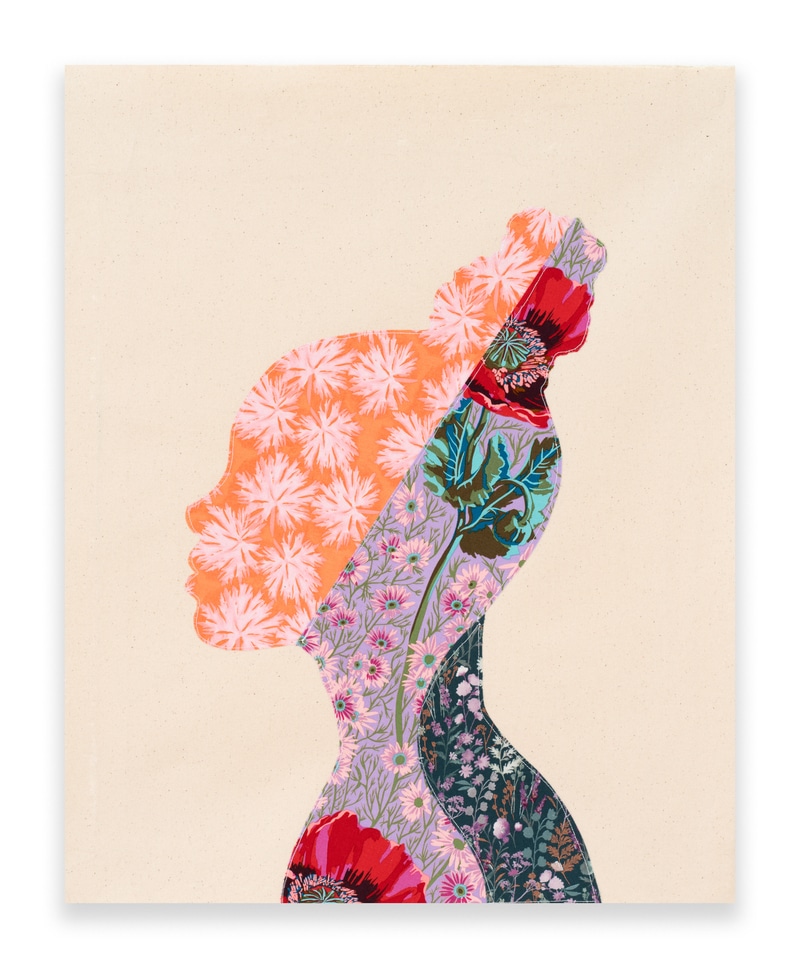 GIO SWABY: FRESH UP
April 8–July 3, 2023
The Art Institute of Chicago | 111 S Michigan Ave
Gio Swaby is a multidisciplinary artist whose textile-based practice explores the intersections of Blackness and womanhood. Her embroidered portraits are anchored in the connections she forges with her subjects: each portrait begins with a photo shoot in which her sitters are captured in a moment of self-awareness and empowerment. In her textile interpretations, Swaby foregrounds their hair, clothing, and jewelry—highlighting and celebrating the subjects' use of fashion as unapologetic self-definition and self-expression.
Image: Gio Swaby, New Growth Second Chapter 11, 2021. Collection of The Altman Family. © Gio Swaby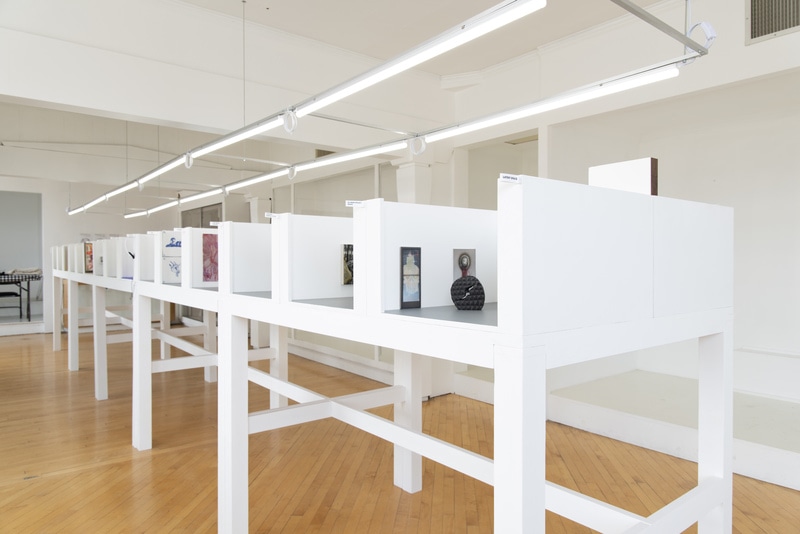 BARELY FAIR
April 14–April 23, 2023
Vernissage | April 14, 6:00–10:00pm
April 15, 22, 23 | 11:00am–6:00pm
April 18–21 | 1:00–6:00pm
Color Club | 4146 N Elston Ave
BARELY FAIR is an international art fair operated by Julius Caesar. The invitational fair presents a tiny peek inside the programming of thirty contemporary art galleries, project spaces, and curatorial projects during EXPO ART WEEK in Chicago. Included spaces will exhibit works in 1:12 scale booths built to mimic the design of a standard fair.
Image: (From right to left) Visible booths are Latent Space with Andrew Park, Bryan Ruiz, Kalan Strauss, Sayre Gomez, Grace Eunchong Lee, 4th Ward Project Space with Kay Hofmann and Michiko Itatani, Chicago Manual Style with Theodora Allen, The Green Gallery with Richard Galling and Umico Niwa, and Extase with Danny Bredar.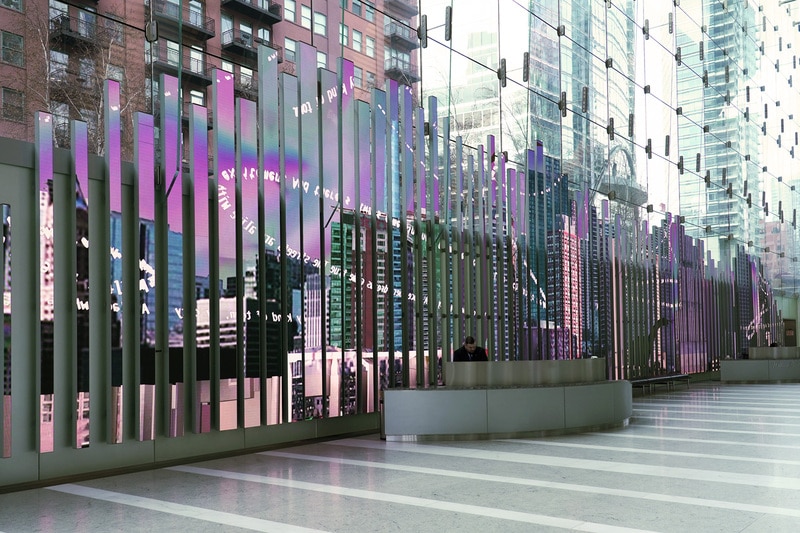 Kenny Schachter: Chicago is, was, will be…
On view April 13–June 30, 2023
Opening Reception | April 14 | 6:00–8:00pm
Artist Talk | 6:00pm | Kenny Schachter in conversation with Bianca Bova
150 Media Stream | 150 N Riverside Plaza
Chicago is, was, will be… is an immersive video installation commissioned by the 150 Media Stream and created with Artificial Intelligence. The work features a hypothetical vision of Chicago as it might have appeared in prehistoric times, collaged with manipulated depictions of the city at present, and theoretical depictions of its appearance in the future. The images will be commingled with ChatGPT machine learning-generated text based upon the lyrics from the 1964 song My Kind of Town (Chicago is). The looping video will combine text and images to create a forward-looking remix that covers a wide spectrum of history and popular culture, put through the blender of artificial intelligence, which will define much human activity in the digital renaissance we are living through.
Image: Kenny Schachter, Chicago is, was, will be…. Photo courtesy of the 150 Media Stream.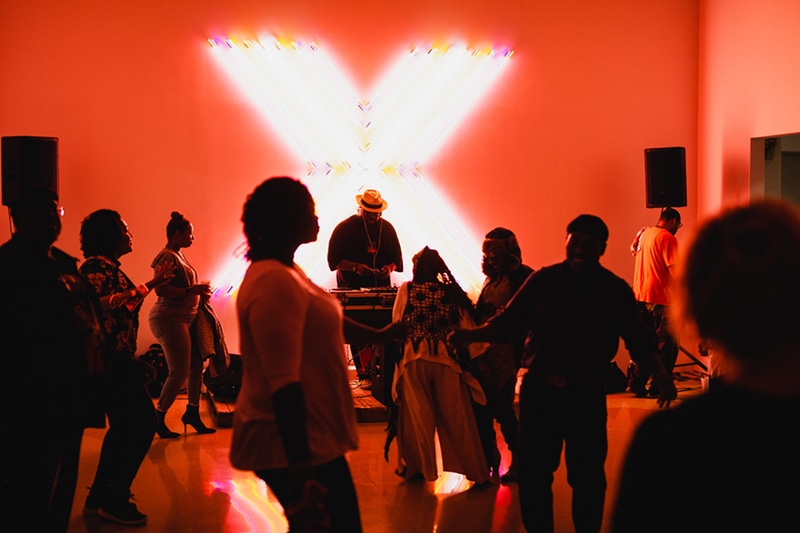 A Song for Frankie: A Daylong "House" Party
April 15 | 11:00am–6:00pm
Stony Island Arts Bank | 6760 Stony Island Avenue
Rebuild Foundation will host a daylong house music party at the Stony Island Arts Bank with sets by prominent local DJs who continue the legacy of the pioneering Godfather of House Music, Frankie Knuckles. Between sets, catch a sneak preview of Rebuild Foundation's latest documentary, My Frankie: Reflections on the Music and Life of Frankie Knuckles, a short documentary produced in partnership with Chicago's Department of Cultural Affairs and Special Events (DCASE), chronicling Frankie's artistry and unique ability to curate liberatory space through sound. Theaster Gates' Rebuild Foundation is the proud steward of the Frankie Knuckles Collection, a collection of over 4,000 vinyl and ephemera belonging to the Godfather of House Music undergoing digitization in partnership with the Frankie Knuckles Foundation. Free with RSVP to sabina@rebuild-foundation.org.
Image: DJ Duane Powell's Sunday Service house music set at the Stony Island Arts Bank.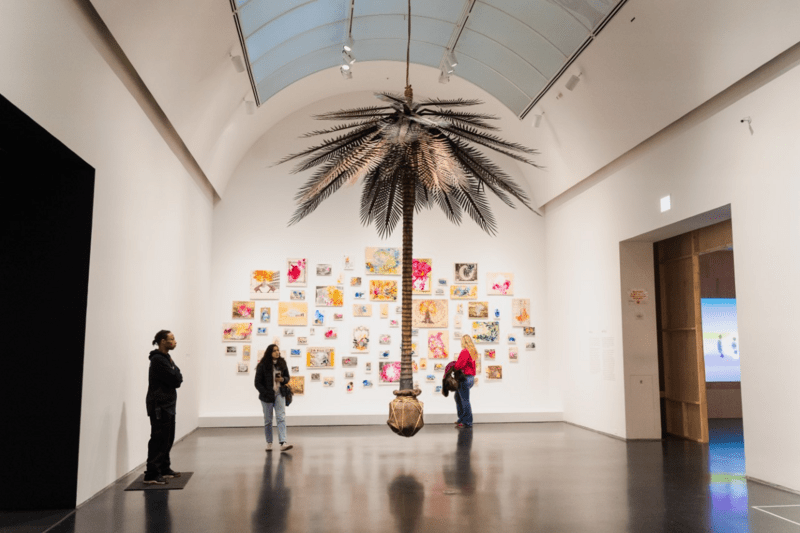 On-view through April 23
Museum of Contemporary Art Chicago | 600 S Michigan Ave
The 1990s were a period of profound social, political, and economic transformation. From the dissolution of the Eastern Bloc to the rise of transnational trade agreements, the decade's large-scale shifts ushered in an era of international connectivity and social upheaval. In the cultural sector, art exhibitions expanded and turned global, and dialogues around identity, especially by those who have suffered systemic oppression, were featured front and center in cultural debates. The forces of this pivotal decade also had a major effect on the production, circulation, and presentation of art from the Caribbean. Taking the 1990s as its cultural backdrop, Forecast Form: Art in the Caribbean Diaspora, 1990s–Today is the first major group exhibition in the United States to envision a new approach to contemporary art in the Caribbean diaspora, foregrounding forms that reveal new modes of thinking about identity and place. It uses the concept of weather and its constantly changing forms as a metaphor to analyze artistic practices connected to the Caribbean, understanding the region as a bellwether for our rapidly shifting times.