Art After Hours
A citywide open gallery night inviting EXPO CHICAGO visitors and the Chicago community to experience the city's vibrant art scene during extended hours from 6:00 – 9:00pm on Friday, April 14, 2023.
Find participating galleries and more with the EXPO ART WEEK Map.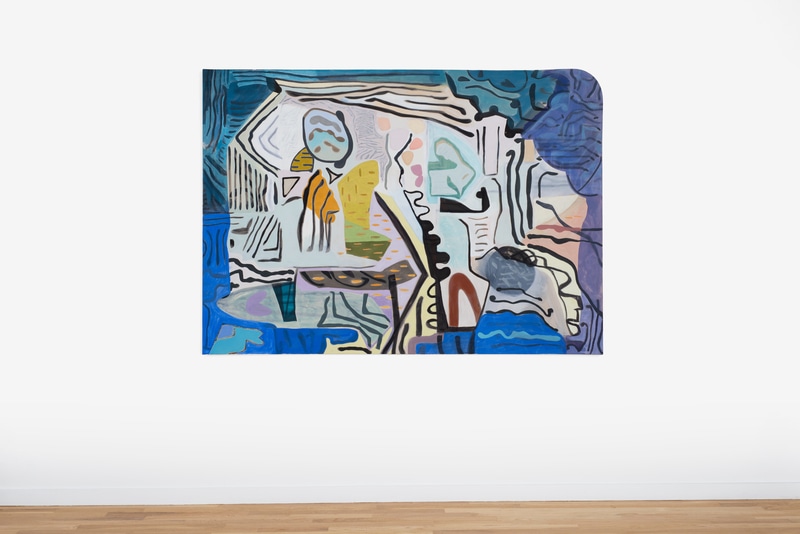 PARTICIPANTS:
65GRAND*
ACRE Projects
ANDREW RAFACZ*
AMFM*
Anthony Gallery*
Blanc
Carl Hammer Gallery
Cherry Mountain Arts
Chicago Artists Coalition*
David Salkin Creative
DOCUMENT*
Elephant Room Gallery
ENGAGE Projects*
Gallery Victor
Goldfinch
GRAY
Heritage Auctions
Hindman Auctions
Ingress Gallery @Soho House Chicago
Kavi Gupta*
Ken Saunders Gallery
LVL3
Mana Contemporary
MICKEY
moniquemeloche*
Paris London Hong Kong
PATRON
Prairie
Produce Model
Roots & Culture
Tiger Strikes Asteroid
Volume Gallery*
Watershed Studioworks
Western Exhibitions*
Zg Gallery
*Galleries participating in EXPO CHICAGO
Friday, April 14
---
Shift: Music, Meaning, Context
Opening Reception | 5:00–7:00pm
Artist Talk | Cecil McDonald Jr. | 5:30–6:00pm
Museum of Contemporary Photography | 600 S Michigan Ave
Shift: Music, Meaning, Context explores how music changes in form and interpretation as it moves across time, bodies, and place. Exhibiting artists include Bani Abidi, Lawrence Abu Hamdan, Tony Cokes, Jeremy Deller, Hassan Hajjaj, Sven Johne, Andre Lützen, Cecil McDonald Jr., Emeka Ogboh, and Taryn Simon. Shift is produced in collaboration between Goethe-Institut Chicago and The Museum of Contemporary Photography, held on-site at the museum.
Exhibiting artist Cecil McDonald will be on-site for an in-person discussion of his work in the exhibition. McDonald Jr. (b. 1965 Chicago) has received honors from the Midwest Voices & Visions Award, the 3Arts Teaching Artist Award, Aperture First PhotoBook 2017 shortlist, and the Lucerne, Switzerland Residency awarded by The Swiss Benevolent Society.
Opening Receptions at Kavi Gupta
6:00–9:00pm
Allana Clarke | 835 W Washington Blvd
Esmaa Mohamoud | 219 N Elizabeth St
Trinidadian-American artist Allana Clarke's work contends with ideas of Blackness, the binding nature of bodily signification, and the possibility to create non-totalizing identifying structures. African-Canadian artist Esmaa Mohamoud is interested in the gap between contemporary culture's oversimplification and diminishment of Black people, compared to the complexity, richness, and diversity of their actual lived experiences.
Jessie Edelman + Julia Bland Solo Exhibitions
Opening Reception | 5:00–8:00pm
ANDREW RAFACZ, 1749 W Chicago Ave
Julia Bland's approach to the rhythm and weight of a repeated geometric form continues through a series of intertwined material processes. The work addresses the repetitious act of weaving, cutting, burning, sewing, dying and painting. Shedding definitive notions of creation and destruction, the surfaces Bland creates emerge as the immediate record of an evolving, dialectical transformation of material concerns, in space. Jessie Edelman's newest series of paintings continue her poetic investigation of solitude. Her work investigates real and desired interior scenes with focal points of fruit and symbolic objects. The spaces they occupy are dynamic and rich with detail, but also limn a sense of contemplation, longing and mystery of place.
Friday Happy Hour at Retreat at Currency Exchange Café
5:00–9:00pm
Retreat at Currency Exchange Café | 305 E Garfield Blvd
Kick it with the Washington Park community at Retreat at Currency Exchange Café, Theaster Gates' and Rebuild Foundation's coffee house and incubator for creative entrepreneurs in the culinary and hospitality arts. Savor cuisine by Rebuild's chef-in-residence Ariya Taylor while enjoying craft cocktails curated by Rebuild's hospitality training staff. Enjoy live music by local musicians while experiencing firsthand Gates' revered creative placemaking practice coming to life on the South Side of Chicago. Free with RSVP to sabina@rebuild-foundation.org.
Natasha Moustache: Lerozyon (l-EURO-zhuhn)
Opening Reception | 5:00–8:00pm
C33-Columbia College Chicago | 33 Ida B Wells Dr, First Floor
Lerozyon (l-EURO-zhuhn) examines the daily rituals of cultural and botanical preservation that anchor the Seychellois people and traditions to their land despite an economic reliance on Western tourism and the steady cultural erosion endured as a result. The Seychelles Islands, loosely tethered to the Horn of Africa, is an archipelago consisting of over 115 islands in the Indian Ocean. It has been called Paradise, the Original Colony, and the Garden of Eden. It is also where Natasha Moustache made thousands of portraits and vibrant landscapes while revisiting their grandparents' homeland. Meticulously edited and exhibited within a lush, domestic installation Lerozyon (l-EURO-zhuhn) brings humanity and dimension to the islands that moves beyond the paradisiacal facade that has outwardly defined it.
Art Shay | Richard Shay: Photographers
Opening Reception | 5:00–9:00pm
Gallery Victor | 300 W Superior St
For over 70 years, Art Shay documented his life, combining his gifts of storytelling, humor, and empathy. Shay was a Chicago-based freelance photographer, landing thousands of assignments for LIFE Magazine, Time, Sports Illustrated and other national publications. Shay photographed nine US Presidents and major literary, business, entertainment, science, and political figures of the 20th century. Shay's photography is included in the permanent collections of museums including the National Portrait Gallery, the Art Institute of Chicago, and the Museum of Contemporary Photography. Surrounded by the influence of his photojournalist father, Richard Shay would go on to follow in his father's path. Richard worked in Chicago as photographer for the Oprah Winfrey Show at Harpo Studios and became the family photographer for Michael Jordan. He would go on to tour with The Smashing Pumpkins.
Spring River North Gallery Walk
5:00–8:00pm
River North Gallery District
Join the River North Gallery District for the Spring River North Gallery Walk. Participating galleries include: Addington Gallery, Jean Albano Gallery, Hilton Asmus Gallery, Carl Hammer Gallery, Gallery Victor, Zg Gallery. Tour the art galleries on a self-guided walk while meeting artists, curators, and gallery staff. Finish with cocktails at any of the restaurants in the neighborhood. The Spring River North Gallery Walk is free and open to the public. Shows continue through April 2023.
THIS IS TEXT BASED ART
Opening Reception + Performance | 6:00–8:00pm
ENGAGE Projects | 864 N Ashland Ave
Highlighting the work of Adam Daley Wilson, ENGAGE Projects' gallery will be filled with paintings and drawings using the 'personal writing system' in which the artist explores abstraction through text. Wilson's work traverses the history of text-based painting, dating back to its earliest origins as cave paintings and its evolution to modern canvas-and-stretcher paintings. Wilson will perform on the night of the opening, demystifying his process of creation by completing a large-scale work in the presence of an audience.
The table in the formal room takes the form of the room
Reception | 6:00–8:00pm
Produce Model | 1918 S Canalport Ave
The table in the formal room takes the form of the room is a two-person show by artists Jackie Furtado and Jessica Tang. The exhibition title is borrowed from Sara Ahmed's Queer Phenomenology (2006), which serves as a framework for the exhibition. Through formally rigorous experiments with photographic processes, video, and site-specific sculpture, the exhibition centers on the objects and rituals of the artists' immediacy and intimacy.
Maia Cruz Palileo: Days Later, Down River
Reception | 6:00–8:00pm
moniquemeloche | 451 N Paulina St.
moniquemeloche presents Maia Cruz Palileo: Days Later, Down River. Maia Cruz Palileo is a multidisciplinary artist whose paintings, installations, sculptures, and drawings navigate themes of migration and the permeable concept of home. Influenced by the oral history of their family's arrival in the United States from the Philippines, as well as the history between the two countries, Palileo infuses these narratives using both memory and imagination.
Mana Contemporary Chicago Open House
6:00–9:00pm
Mana Contemporary Chicago | 2233 S Throop St
Meet artists, curators, gallerists, and collectors at the Mana Contemporary Chicago Open House. This event is FREE and Open to the public.
Spring Fine Art at Hindman
6:00–9:00pm
Hindman Auctions | 1550 West Carroll Avenue
Join Hindman for an after-hours highlights preview of our upcoming spring Fine Art auctions. Featuring artists of the Chicago art world, stop by to explore works by Gertrude Abercrombie, Theaster Gates and many more.
Celebrate Neon Infinite
6:00–9:00pm
Ken Saunders Gallery | 2041 W Carroll Ave Suite C-321
Celebrate Neon Infinite, a survey of artists working in Neon and Plasma. Featuring John Bannon, Jacob Fishman, Zoelle Nagib and Jason Pickleman. Several of the artists will be present. Drinks and snacks will be served.
Perhaps Blue is a Cool Color, After All: Artist Talk with Eseosa Edebiri
6:00–9:00pm
ACRE Projects | 2439 S Oakley Ave
Join ACRE Projects for a talk by interdisciplinary artist Eseosa Edebiri, in conjunction with her solo show Perhaps Blue is a Cool Color, After All. Edebiri's work reflects on autonomy and intergenerational trauma—while maintaining a slight, cheeky playfulness. Her practice explores elements of touch and accessibility, representations of BIPOC communities, instances of police brutality, and the experiences of those who are chronically ill and disabled. Edebiri aims to engage these moments without desensitizing us to the trauma of it all, sharing the sparks of joy and fleeting happiness that we experience while we're alive.
Plazalore: Artist Performance
6:00–9:00pm
Belong Gallery | 2712 W North Ave
Belong Gallery invites you to an artist performance by Erol Scott Harris highlighting his solo exhibition Plazalore. Audience members will be invited to walk on the linoleum flooring installed by the artist which will be used in future artworks.
HILARITIES & UNREST: A Black Sonic Experience
6:00–10:00pm
AMFM | Epiphany Center for the Arts, The Chase Room | 201 S Ashland Ave
HILARITIES & UNREST: A Black Sonic Experience spotlights AMFM exhibiting artist, Lola Ayisha Ogbara's new sound project. With AMFM's booth featuring Black emerging artists, this event caters to the Black experience with curated projections and DJs.
Irene Wa.: Performance and Gallery Talk with Artist
7:00–9:00pm
Goldfinch | 319 N Albany Ave
Irene Wa.'s second solo exhibition at Goldfinch, Crisálida de sal (Chrysalis of Salt) features new ceramic sculptures and drawings that spring from the Mexican artist's recent study of diphonic singing (also known as overtone chanting, harmonic singing, and polyphonic overtone singing), a set of techniques in which the vocalist manipulates the resonances of their vocal tract in order to create the perception of multiple notes being sung at once.