Special Projects 2015
Daniel Buren
Photo Souvenir: Optical Fiber, White and Blue Arch, Situated Work, 2012
Photo Souvenir: Optical Fiber, White and Blue Arrow, Situated Work, 2012
Bortolami
Daniel Buren realized his optical fiber works with the company Brochier Soieries, employing their innovative technology for luminescent textiles. The two pieces are "situated works," which, according to the artist, "change each time in response to a given place." The site, in turn, changes too. White and Blue Arch and White and Blue Arrow alter their respective locations by turning the auxiliary, formerly unadorned spaces into glowing, meditative ones.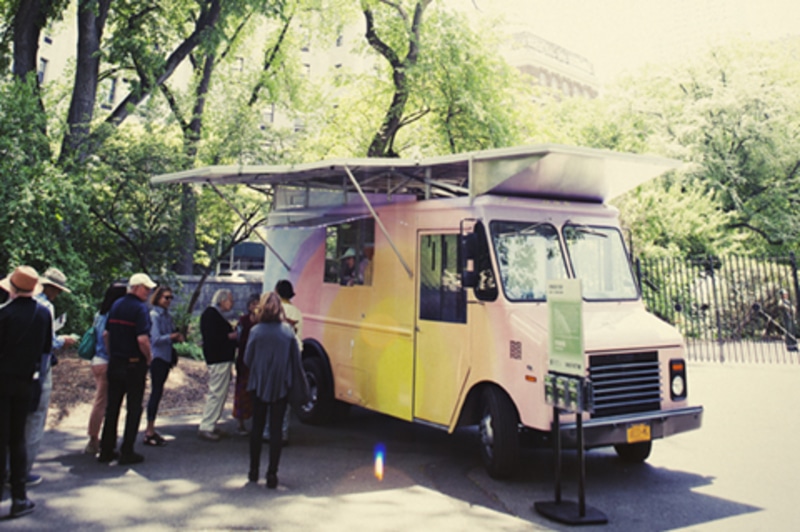 Spencer Finch
Sunset (Central Park)
Rhona Hoffman Gallery
Sunset (Central Park) is a solar-powered ice cream truck that offers soft-serve ice cream in the colors of the sunset over Central Park as recorded by Spencer Finch, only this time, the truck will be situated at Chicago's Navy Pier. Finch's practice carefully records the fleeting and temporal nature of light and color. Combining science and poetry, the results of his investigations are presented in the form of light boxes, immersive and site-specific installations, and works on paper.
Susan Hefuna
Afaz
Rhona Hoffman Gallery
Susan Hefuna's Afaz is based on the traditional palm wood boxes made by craftsmen outside of Cairo; the multi-functional crates are used to transport goods and display wares in the street. Hefuna stacks enlarged, open latticework structures on top of each other to give a sense of monumentality to a common and seemingly fragile object.
Sandro Miller
Malkovich, Malkovich, Malkovich: Homage to Photographic Masters
Catherine Edelman Gallery
Malkovich, Malkovich, Malkovich: Homage to Photographic Masters honors the men and women whose photographs helped shape Sandro Miller's career. Pieces include Irving Penn's photograph of Truman Capote in a corner; Bert Stern's photographs of Marilyn Monroe; Dorothea Lange's image of a migrant mother; Robert Mapplethorpe's self-portrait with a gun; Annie Leibovitz's iconic image of John Lennon and Yoko Ono; and Diane Arbus' classic photo of a boy with a hand grenade, among many others.
Amalia Pica
If These Walls Could Talk
KÖNIG GALERIE
Amalia Pica fabricates tin-can telephones from empty commercial food containers, attaches them to opposing walls and connects them with tautly drawn strings. These amateur communication devices satisfy an individual's desire to be part of a social exchange network from which he or she is excluded.
Hunter Reynolds
Survival AIDS – ACT-UP Chicago – A Revolution
P.P.O.W / Iceberg Projects
This site-specific installation of photo weavings created from a composite of scanned Chicago newspaper clippings and imagery from Hunter Reynolds' life and past work, explore and reflect upon his experience as an HIV positive gay man. Historical and abstract messages collide to create a space where experience and reporting, artist and audience, present and past exist simultaneously.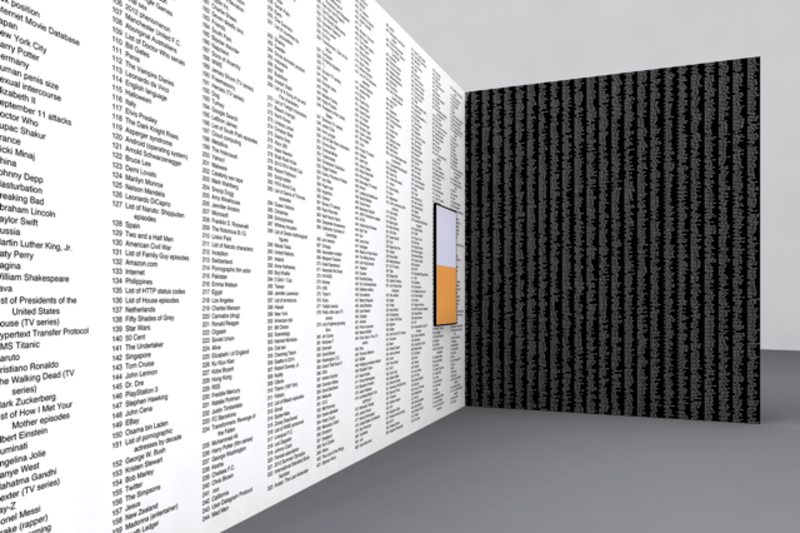 Jason Salavon
The Master Index (Semaphore)
Inman Gallery
The Master Index (Semaphore) consists of two adjacent walls covered entirely in custom wallpaper and one real-time digital video listing every English Wikipedia article by popularity. Jason Salavon composed this massive digital list in collaboration with researchers at the University of Chicago.
Dan Sullivan and Edra Soto
DOMINODOMINO
Morgan Lehman Gallery
DOMINODOMINO is a meticulously crafted jatoba wood table with corian inlay, inspired by the cement domino table common to Puerto Rico. The immersive installation is evocative of a game room where playing dominoes invites and challenges connections amongst friends and strangers. All are invited to sit at the table and play.
Hank Willis Thomas, Jim Ricks and Ryan Alexiev
In Search of the Truth (Truth Booth)
Presented by Project&
This installation inaugurates the annual Project&/EXPO CHICAGO collaboration focused on social aesthetics. Hank Willis Thomas, Ryan Alexiev, and Jim Ricks of the Cause Collective's In Search of the Truth (Truth Booth) is an installation of an inflatable booth in the shape of a speech bubble. Participants enter the booth, which takes a video and audio recording of their opinions and thoughts as they finish the sentence "The truth is..."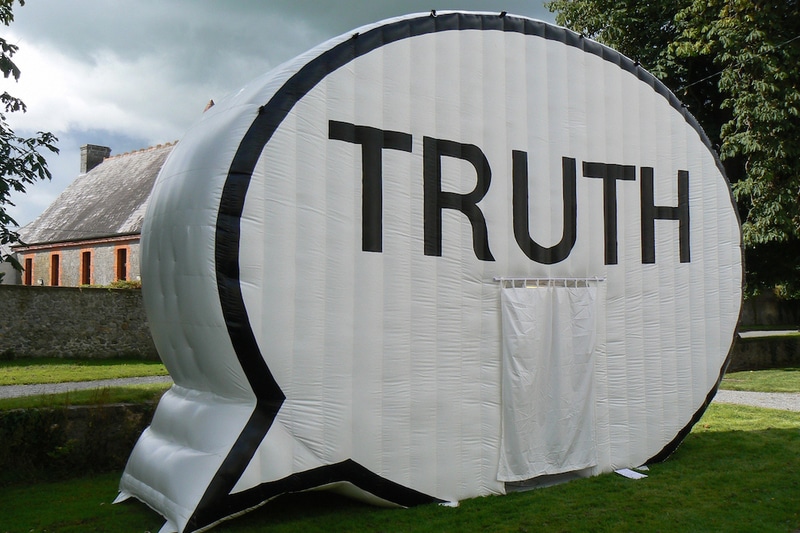 Glenn Wexler
Crown Hall
Zolla/Lieberman Gallery
Glenn Wexler's Crown Hall combines structure with imagery from nature, and in part, pays homage to the architect Mies van der Rohe. The 3-D rectangular shaped floor piece has a pine and birch plywood structure as well as a shell made from acrylic panels. Softly illuminated from the inside, it features photographic images from plant-life.
Bryan Zanisnik
Office Paintings, 2015
Aspect/Ratio
Inside the carved-out holes of the plinth-like sculptures are objects from artist Bryan Zanisnik's childhood, including baseball cards and miniatures. Zanisnik plays with elements of familial history and uses discarded objects to present an architectural ruin that mimics household cabinets.