Past Programs
---
Presented in partnership with the School of the Art Institute of Chicago (SAIC), /Dialogues offers panel discussions, conversations and provocative artistic discourse with leading artists, curators, designers and arts professionals on the current issues that engage them.
---
Situated throughout the exposition floor, IN/SITU provides a dynamic opportunity for our exhibiting galleries to showcase large-scale installations, suspended works, sculpture, film, video, and new media and performative works by leading international artists.
---
IN/SITU Outside provides the opportunity for EXPO CHICAGO Exhibitors to present temporary public art installations situated along the Lakefront and throughout Chicago neighborhoods, presented in partnership with the Chicago Park District (CPD), the city of Chicago's Department of Cultural Affairs and Special Events (DCASE), and Navy Pier.
---
EXPO VIDEO features a dynamic, curated screening program for film, video and new media works by artists represented by exhibitors.
---
OVERRIDE | A Billboard Project is a cutting edge citywide public art initiative, presented by EXPO CHICAGO and the City of Chicago's Department of Cultural Affairs and Special Events (DCASE). Displayed throughout Chicago's City Digital Network (CDN), the citywide exhibition runs to align with the annual exposition. Placing artwork within this public context and the broader presentation of billboard advertising, OVERRIDE takes its name from industry terminology referring to the continuation of an outdoor advertising program beyond a contracted period.
---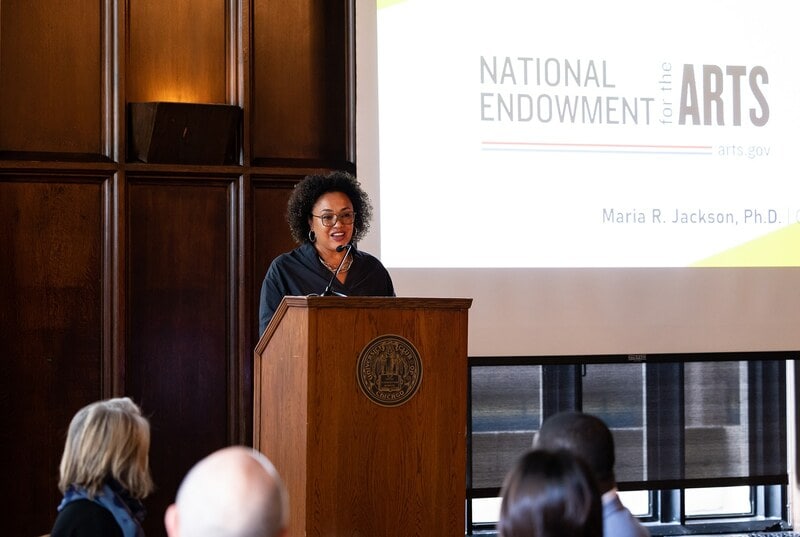 The Directors Summit brings together a diverse group of emerging art museum leaders from across the United States for a three-day program addressing the shifting dynamics of museum leadership today. Shaped in partnership with museum consultant Jill Snyder, the Directors Summit is centered on two public roundtable discussions on the /Dialogues stage at EXPO CHICAGO that examine how to forge equitable and sustainable movement forward for art museums, in addition to a full program of tours, dinners, and a keynote lecture.
---
Developed by EXPO CHICAGO and Independent Curators International (ICI), the Curatorial Forum offers a group of mid-career and established curators, working independently or with an institutional affiliation, the opportunity to engage with their peers and explore significant issues relating to curating, programming, institution-building and audience engagement.
---
The Curatorial Exchange offers mid-career and established international curators the opportunity to engage closely with their peers and with EXPO CHICAGO's international exhibitors while exploring Chicago's cultural landscape through a tailored four-day program. Developed in partnership with foreign consulates and cultural agencies, the Curatorial Exchange aims to inspire future collaborations and foster new insight on gallery and institutional programs and artists' practices from Chicago and around the world.
EXPO Projects
---
EXPO Projects, including the EXPO Sound: A Daata Editions collaboration, presented alongside IN/SITU in and around Navy Pier, featured a curated selection of projects organized by EXPO CHICAGO. The site-specific installation program highlights large-scale, sound, and performative works by emerging and established artists represented exhibitors.
Alignments
---