Override 2022
OVERRIDE | A Billboard Project is a citywide collaborative public art initiative between EXPO CHICAGO and the City of Chicago's Department of Cultural Affairs and Special Events (DCASE) in collaboration with the Chicago Digital Network to exhibit artwork on all CDN billboards and City Information Panels "CIPs" in the Central Business District from April 4—17, 2022. Participants included both emerging and established artists from Chicago and around the world. Placing artwork within this public context and the broader presentation of billboard advertising, OVERRIDE takes its name from industry terminology referring to the continuation of an outdoor advertising program beyond a contracted period. Fully integrated into the language of advertising and local familiar signage, each of the works included within the OVERRIDE program present the opportunity for local and international artists to intercept and push the boundaries of how visual culture is disseminated in our increasingly image-based environment.
Building upon the City of Chicago and DCASE's longstanding commitment to public art, OVERRIDE provides EXPO CHICAGO a key opportunity beyond Navy Pier to showcase works by leading international artists in neighborhoods throughout the city.
2022 Participating Artists
---
Barnaby Barford | David Gill Gallery, London
Sanford Biggers | moniquemeloche, Chicago
Brandon Breaux | Artist, Chicago
Jasmine Clarke | Artist, Chicago
Laura Kina | Artist, Chicago
Caroline Liu | Artist, Chicago
Kameelah Janan Rasheed | NOME, Berlin
Leonard Suryajaya | Artist, Chicago
Gerald Williams | Kavi Gupta, Chicago
Karl Wirsum | Corbett vs. Dempsey, Chicago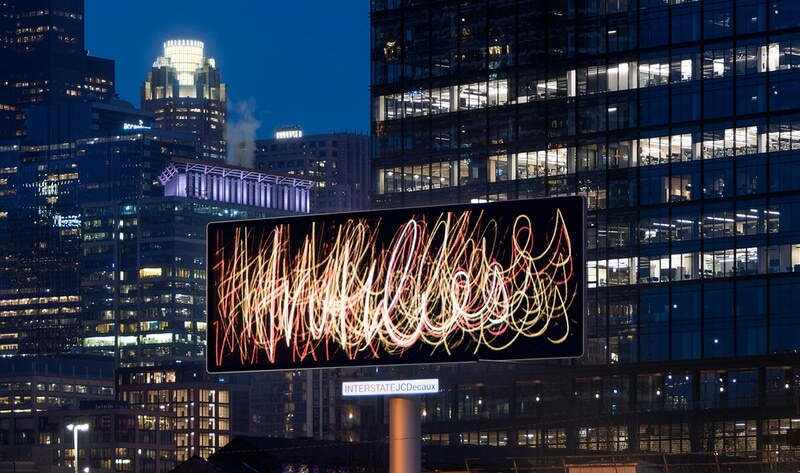 BARNABY BARFORD
Truth & Lies, 2022
Courtesy of David Gill Gallery, London
Especially created for OVERRIDE 2022, these 'Truth and Lies' drawings are the outcome of the artist's further exploration of his Word Drawings. Barford's signature technique consists of repeating the same words over and over, allowing his practice to develop both on a formal and conceptual level.

These works highlight the prevalence of contemporary debates on the obfuscation of facts and a prevalence of doubt that fills our newspapers and social media feeds. Reflecting on historical and political events, Barford's latest works are testimony to a changing world in which everything is susceptible to being questioned.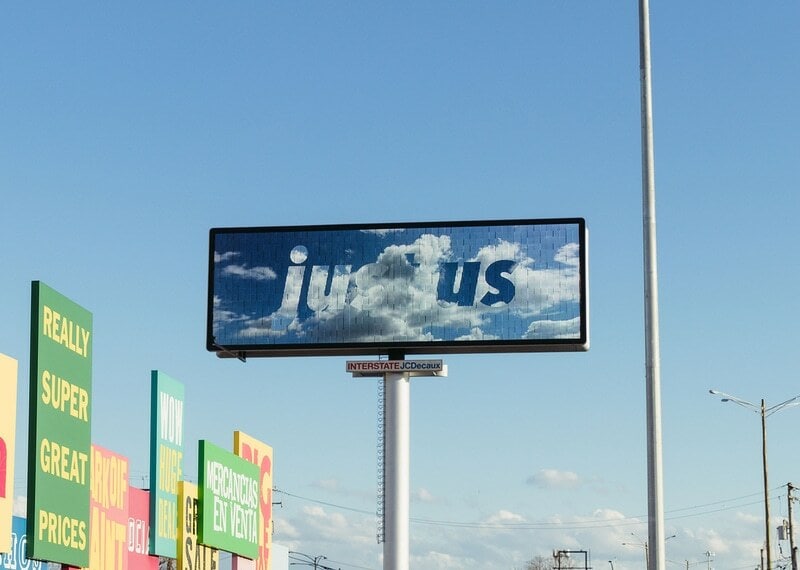 SANFORD BIGGERS
JUST US, 2016
Courtesy of the artist and Monique Meloche Gallery, Chicago
JUST US is an ongoing series which began in 2016. This text-based work considers the evolving iconography of clouds, both appearing in surrealist art and contemporary graffiti, and examines the current political climate. Stating at the unveiling of a JUST US mural currently on view as part of The Helis Foundation and Arts Council New Orleans' Unframed series, "Everyone sees something different when they look in a cloud. In this case, if you look hard enough you might be able to find justice. Justice is something we're always looking for. Sometimes it's very hard to find. Everyone's journey towards justice is quite different."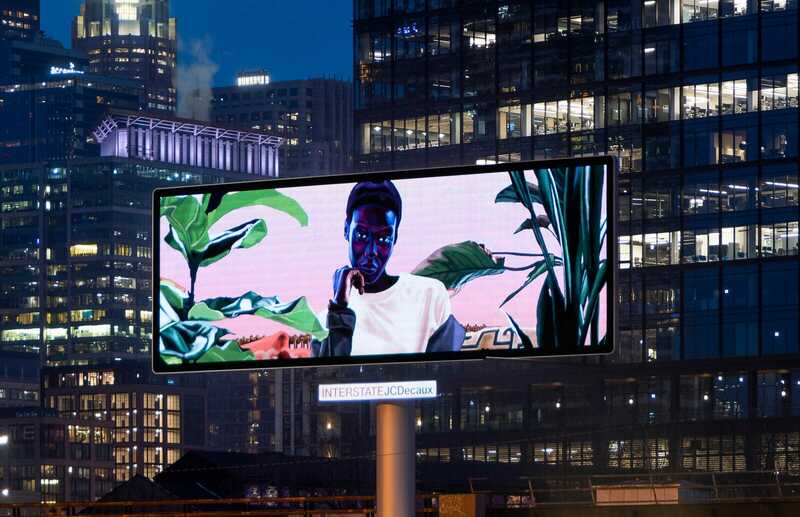 BRANDON BREAUX
Seen, 2022
Courtesy of the artist
Lush foliage and block letter words intersect with an evocative figure, offering a meditation on how the artist sees the world while also inviting a connection - or confrontation - with the way language can be both a passageway or barrier between worlds. The juxtaposition of painterly images and graphic lettering draw on Breaux's multidisciplinary practice, which always involves a concern with accessibility.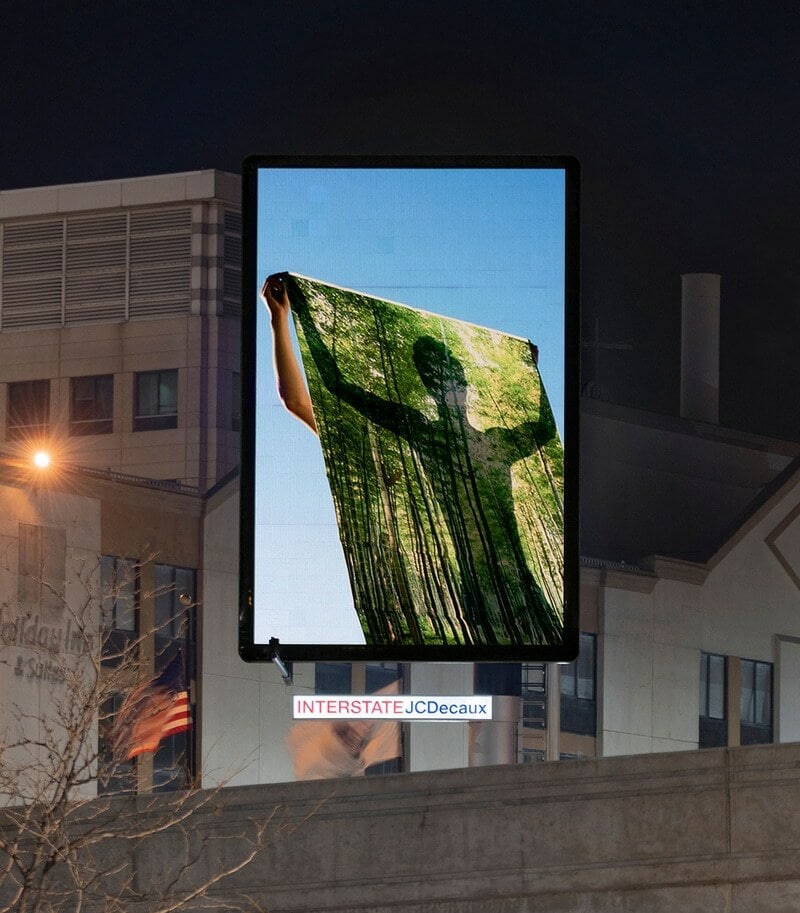 JASMINE CLARKE
Tapestry, 2018
Courtesy of the artist
Tapestry is about the collapsing of space. Taking the body, landscape, and sky into a single plane, and walking the line between dream and reality.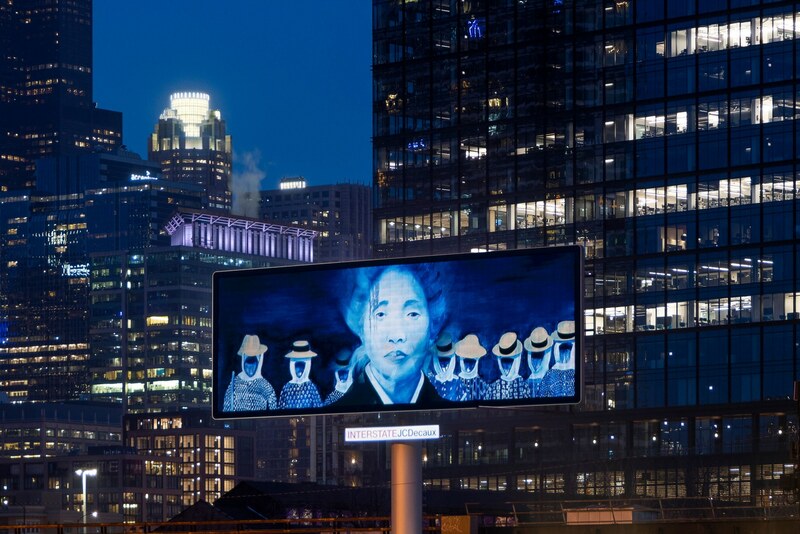 LAURA KINA
Issei, 2011
Courtesy of the artist
"Issei" is double ancestral portrait. The central figure is a memorial portrait of my paternal great-great grandmother Makato Maehira who died in WWII in 1945 during the Battle of Okinawa. The title refers to the Japanese-language term for the first generation to immigrate. My great grandma Makato Gibu was issei and immigrated through the "picture bride" system of arranged marriage from Okinawa, Japan in 1919 to work on a sugarcane plantation on the Big Island of Hawaii.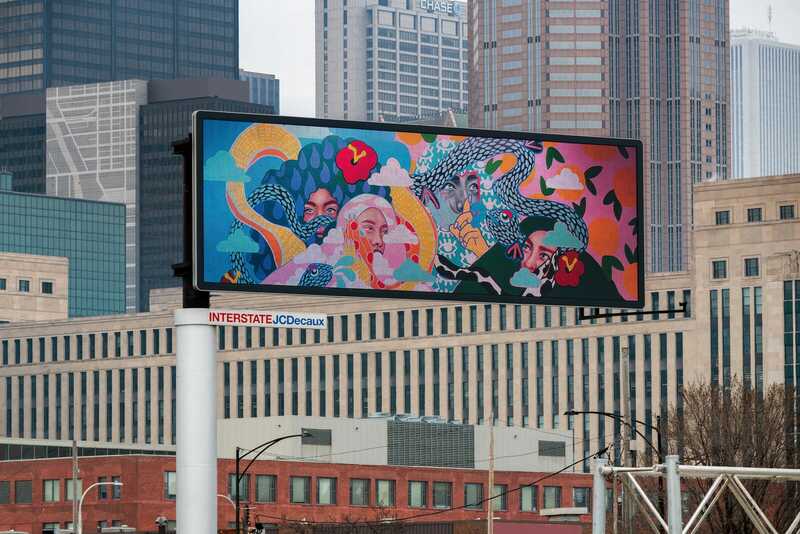 CAROLINE LIU
Daydreams, 2021
Courtesy of the artist
Floating in a colorful landscape of fluffy clouds and scary eels, these four distinct portraits represent the importance of inner strength and community bonds against elements of fear and criticism. In our daydreams, we gather and we imagine a better world together.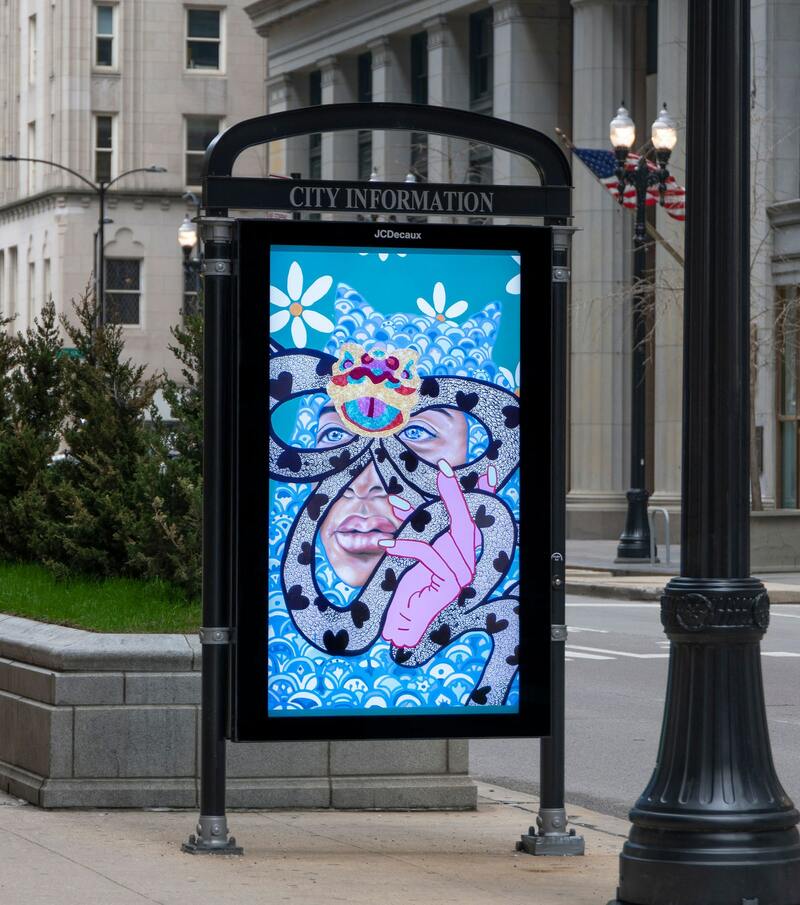 CAROLINE LIU
Chinese New Year, 2021
Courtesy of the artist
This self portrait was an important step in connecting on a deeper level to Caroline's cultural identity and heritage with the exploration of significant Chinese iconography, patterns, and an intentionally meditative practice of mark-making.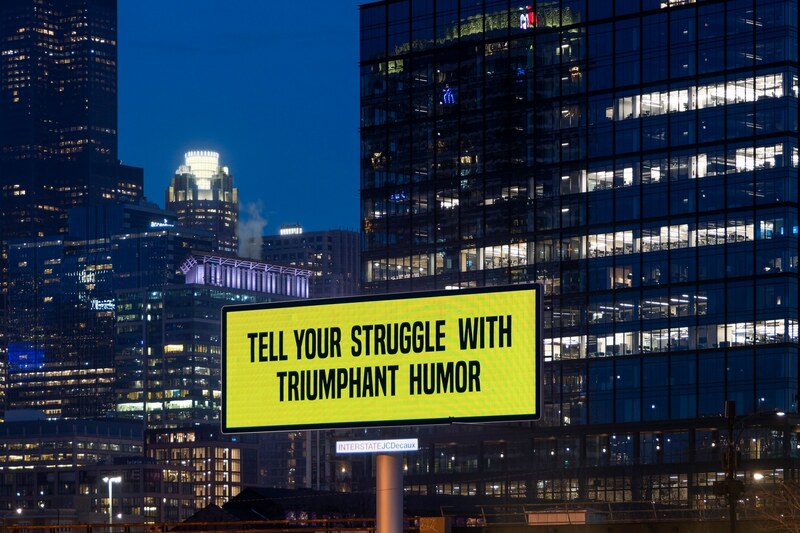 KAMEELAH JANAN RASHEED
Tell Your Struggle With Triumphant Humor from the series How To Suffer Politely (and Other Etiquette), 2014
Courtesy of the artist and NOME, Berlin
"How To Suffer Politely (And Other Etiquette) both invokes and satirizes traditional etiquette guides. Created in direct response to the escalating visibility of violence against Black people across the United States, the work examines the resulting expectations placed on these communities to find ways to police their reactions while maintaining restraint and civility. More broadly, the work asks its viewers to consider how such self-monitoring of everything from emotional expression to physical movement is used as a tool to perpetuate the social order of oppressive systems."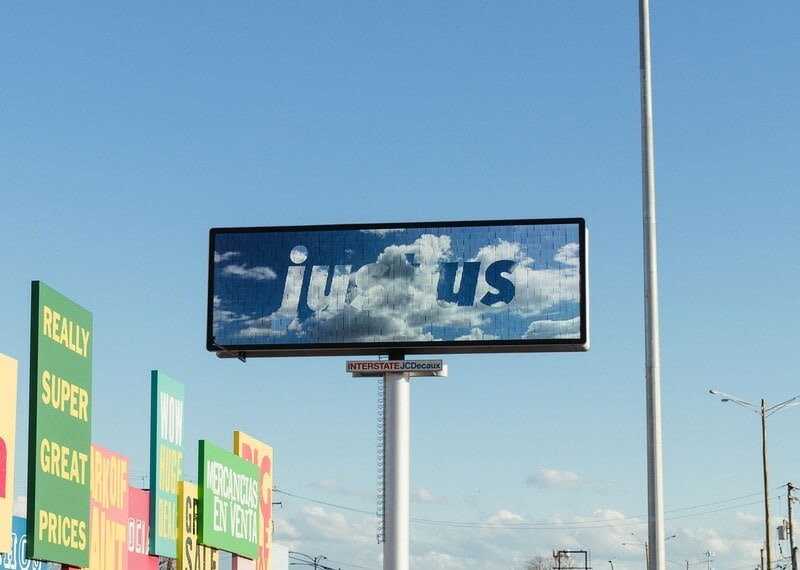 LEONARD SURYAJAYA
Arisan, 2017
Courtesy of the artist
Suryajaya's mom, sister, aunts, cousins and friends are wearing traditional Indonesian costumes highlighting different feminine expressions from different cultures within Indonesia.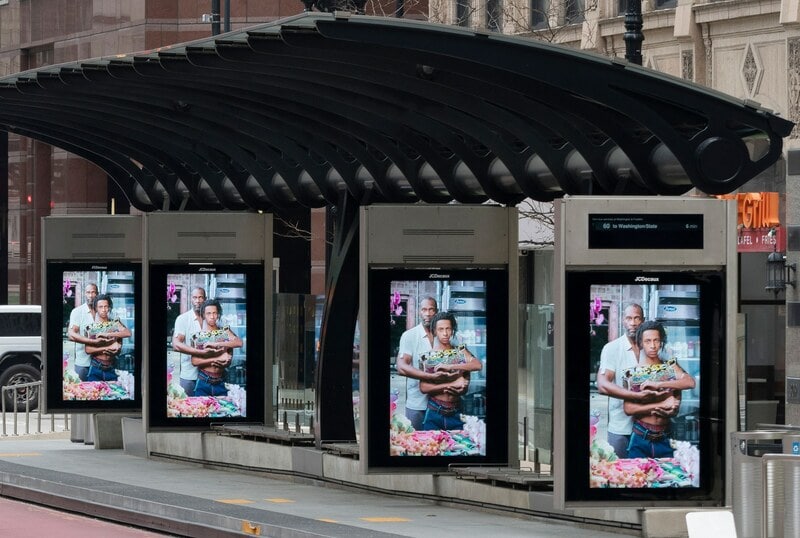 LEONARD SURYAJAYA
Gordon and Son, 2020
Courtesy of the artist
Gordon and his son David posing with Gordon's collection of workout shoes. David is wearing masks armor he created.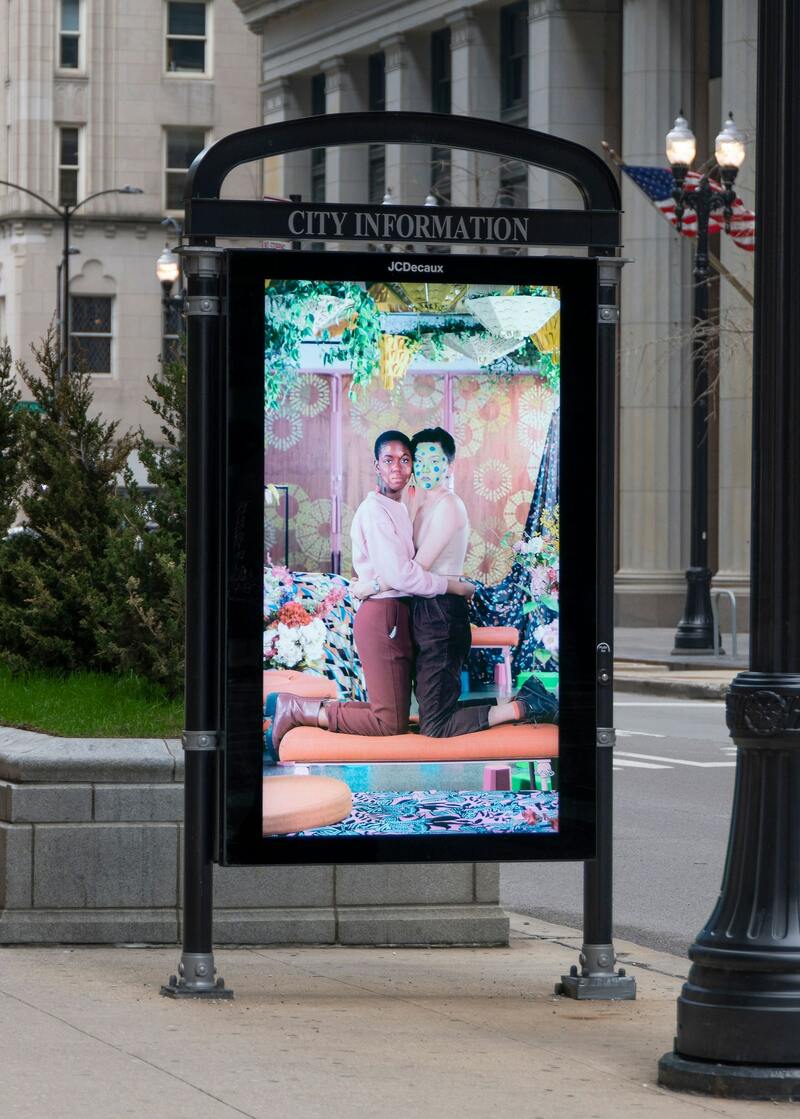 LEONARD SURYAJAYA
Two Bodies, 2017
Courtesy of the artist
Kanyinsola and Hyohee, two teenage friends photographed at MCA Chicago.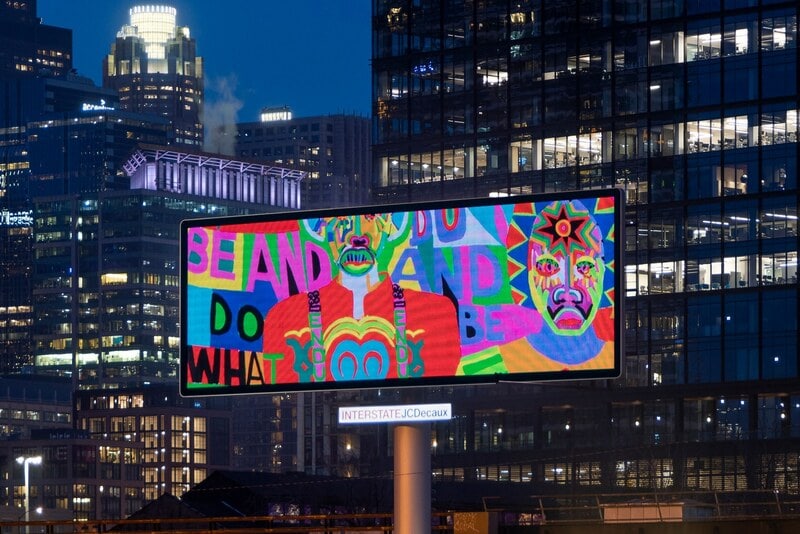 GERALD WILLIAMS
Family, 1976
Courtesy of Kavi Gupta, Chicago
This painting by AFRICOBRA co-founder Gerald Williams, simply titled "Family," recalls some of the earliest conversations that AFRICOBRA had as a group. When the artist collective originally met in 1968, they decided to produce works around common prompts to see how they individually responded to the concepts, as well as how they collectively were in dialogue. The first theme was "The Black Family."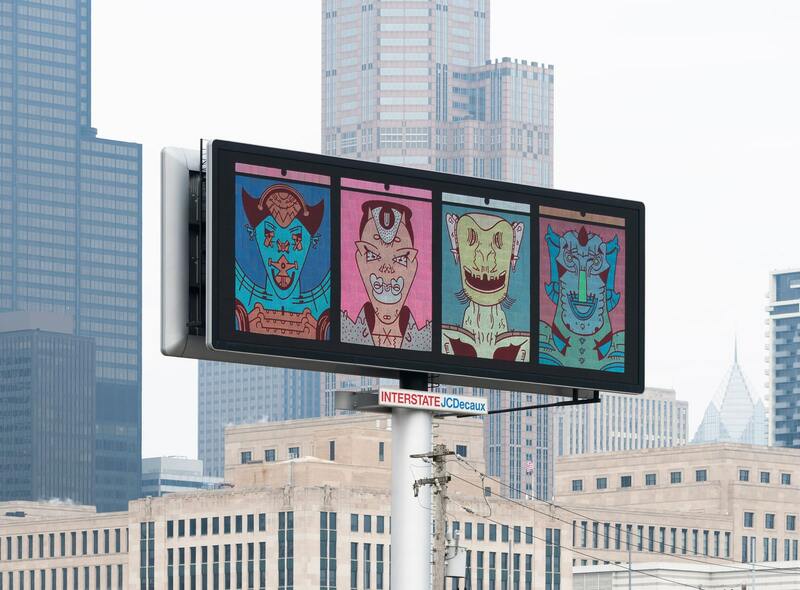 KARL WIRSUM
Untitled, 1975
Courtesy of the Estate of Karl Wirsum, Corbett vs. Dempsey, Chicago and Derek Eller Gallery, NY
Karl Wirsum (1939-2021) made the "Alien Dating Service" works in the mid 1970s, at the height of the first wave of interest in the Chicago Imagists. Each of the pieces, which were back-painted on a commercially produced plastic folder, featured a portrait of different aliens, designed as a kind of profile picture to entice other aliens. Wirsum, who died this last May, was a major inspirational figure in Chicago art, an original member of the Hairy Who, a beloved teacher and widely collected artist, the subject of a huge retrospective at the Chicago Cultural Center in 2007. The "Alien Dating Service" paintings are classic Wirsum – boldly humorous and formally inventive, relating back to his interest in both self-taught art and comic book imagery, as well as Northern Renaissance portraiture.