IN/SITU Outside 2019
Engaging the city's long legacy of pioneering public art, EXPO CHICAGO presents major initiatives presented in collaboration with the City of Chicago's Department of Cultural Affairs and Special Events (DCASE), the Chicago Park District, and Navy Pier to highlight work by internationally recognized artists. IN/SITU Outside provides the opportunity to present temporary public art installations situated along the Lakefront and throughout Chicago neighborhoods.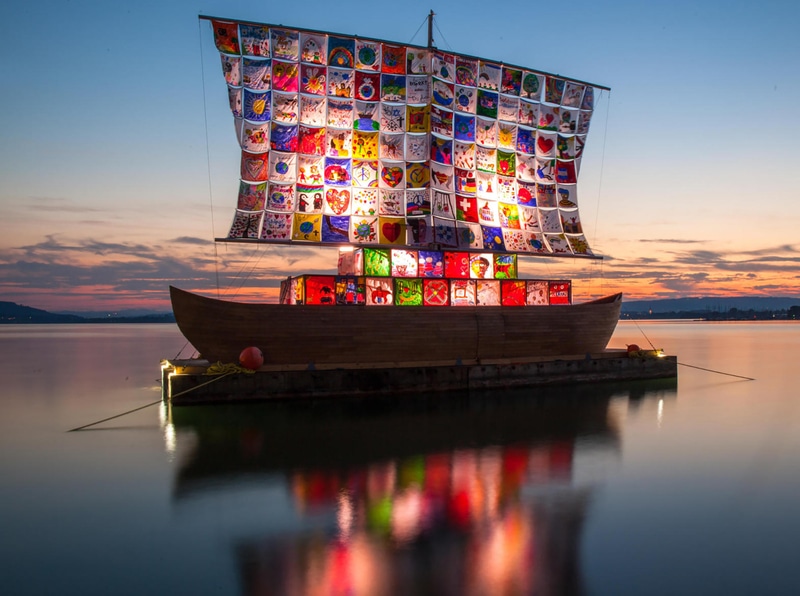 The Ilya and Emilia Kabakov Foundation | The Ship of Tolerance (2019)
Located in Polk Bros. Park at Navy Pier
This large-scale installation has been installed in twelve cites internationally to date, connecting communities through art and music to address issues surrounding intolerance. The Chicago Ship is an extension of an international program initiated in 2005 to overcome societal divisions through a three-part approach, which include educational initiatives held throughout Chicago schools, the building of a scale model ship, and the presentation of children's musical performances.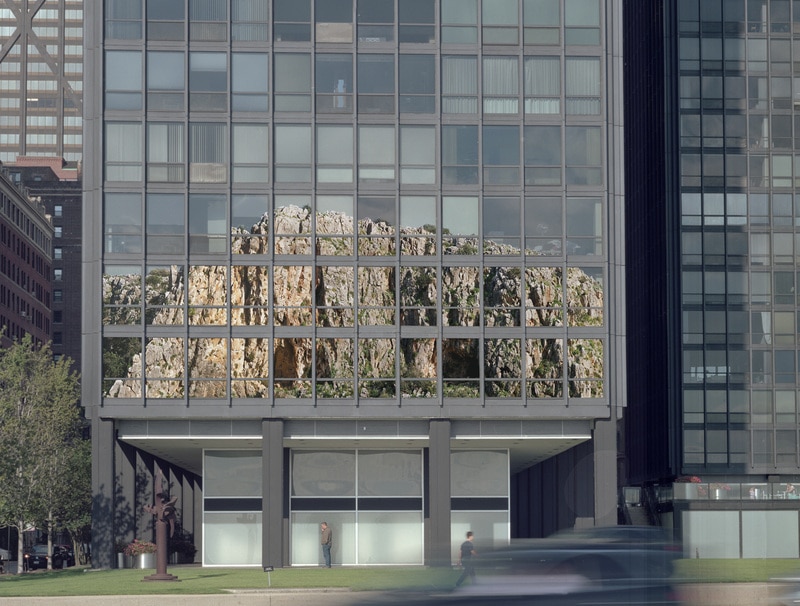 Assaf Evron | Collages for the Esplanade Apartments (2019)
Located at 900 N Lake Shore Drive
This site-specific installation at the 900 N Lake Shore Drive apartments, designed by Mies van der Rohe, is a continuation of Assaf Evron's Collage Series. After Mies immigrated to the US in 1938, he began making collaged works on paper of domestic interiors with American landscapes seen through their iconic glass windows. Evron similarly treats the apartment building's windows with a mountain range located in Israel. This insertion of rock formations from Evron's homeland—a location where pre-human cave-dwellings have been discovered—creates a dialogue about the origins of architecture, natural resources, and global citizenship. Presented in collaboration between the artist, the tenants of 900 N Lake Shore Drive, and the Elmhurst Art Museum, with support from DCASE and Artis.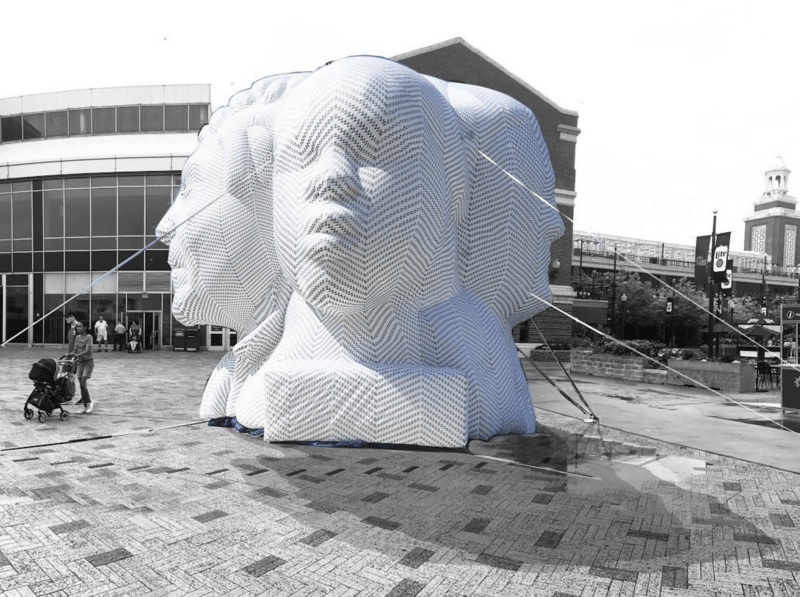 Floating Museum | Founders Inflatable (2019)
Located at Navy Pier
Founders is a mobile monument and collaboration between Floating Museum, Chris Pappan (Kanza/Osage, Lakota)and Monica Rickert-Bolter (Potawatomi/African-American/German). The inflatable sculpture features four busts facing the four cardinal directions, whose form is a mix of interpretations of items from the collections of the DuSable Museum of African American History, the Field Museum of Natural History, as well as interpretations of various historical figures. The busts feature Jean Baptiste Pointe du Sable (Chicago's first non-indigenous settler), Kitihawa (du Sable's Potawatomi wife), Harold Washington (first African American Mayor of Chicago), and a bust of a young boy by artist William Artis. The pattern on the inflatable monument was inspired by Potawatomi textiles in the Field Museum collections.

Performances presented alongside Founders:
translator with The Founders Syndicate ft. Corey Wilkes. A 3-part free jazz activation merging sound, ritual and spoken word as a spiritual offering to the "first woman" of Chicago, Kitahawa (Jean Baptiste Point DuSable's partner instrumental in the founding of the city).
Part I & II ⁠— Thursday, September 19, 2019 @ 6pm
Part III ⁠—Saturday, September 21, 2019 @ 11am
Daniel Buren | Attrape-soleil (2013), Bortolami
Located on Chicago Museum Campus
Ewerdt Hilgemann | Habakuk (Homage to Max Ernst) (2014), Courtesy of Borzo Gallery and The Mayor Gallery
Located on Chicago's Museum Campus
Bernar Venet | Disorder: 9 Uneven Angles (2015), Paul Kasmin Gallery
Located at Congress Parkway and Columbus Drive
Chicago Park District Public Art Installations
Herbert Alpert | Spirit Totems (2010–2012), Courtesy of the Artist
Located at the Field Museum South Steps Plaza
John Henry | Chevron (2007), Novak Construction
Located at Diversey Harbor Inlet
Indira Johnson | 10,000 Ripples (2016), Courtesy of the Artist and Changing Worlds
Located just East of Iowa Building, North of Museum of Science and Industry
Claes Oldenburg & Coosie Van Bruggen | Architect's Handkerchief (1999), Paula Cooper Gallery
Located at 860-880 Lake Shore Drive