Curatorial Forum 2017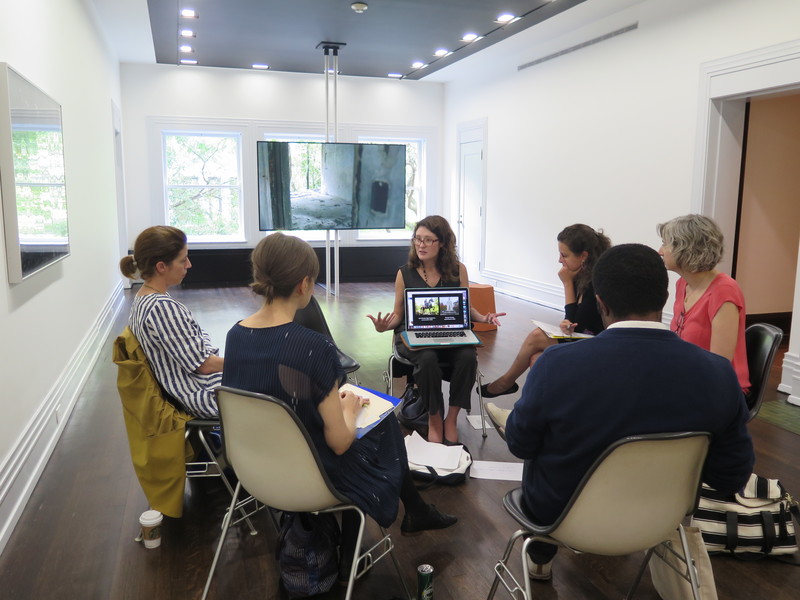 The EXPO CHICAGO Curatorial Forum is an invitation-only program designed to provide leading curators a unique networking opportunity. Developed by EXPO CHICAGO and Independent Curators International (ICI), the 2017 Curatorial Forum offered a group of mid-career and established curators, working independently or with institution affiliation, the opportunity to engage closely with their peers to explore pertinent issues relating to curating, programming, institution-building, and audience engagement.
The Forum allowed the 30 participating curators to discuss current and upcoming exhibitions with colleagues, dealers, and attending artists, acting as a catalyst for future collaborative programming within their own institutions as well as with EXPO CHICAGO. Providing a framework for knowledge exchange, participants were gathered in small working sessions to discuss a set of topics and questions that were relevant to their practice and context. Sessions took the form of think tanks, group discussions, workshops and field trips. The format encouraged critical curatorial thinking, and knowledge-sharing from their cohorts, while promoting collaboration and network building between the participants. Several two-hour long closed door sessions were organized, inviting curators to take a leading role in proposing topics, and chairing the sessions.
Independent Curators International
Independent Curators International (ICI) produces exhibitions, events, publications, research and training opportunities for curators and diverse audiences around the world. Established in 1975 and headquartered in New York, ICI is a hub that connects emerging and established curators, artists, and art spaces, forging international networks and generating new forms of collaborations. ICI provides access to the people and practices that are key to current developments in the field, inspiring fresh ways of seeing and contextualizing contemporary art
Supporters
2017 PARTICIPANTS
Wassan Al-Khudhairi | Contemporary Art Museum St. Louis Chief Curator
Steven Bridges | Eli and Edythe Broad Art Museum Assistant Curator
Leslie Brothers | McDonough Museum of Art Director
Laura Burkhalter | Des Moines Institute of Art Curator
Jesus Carrillo | Independent Curator
Rachel Cook | DiverseWorks Curator
Jill Dawsey | Museum of Contemporary Art San Diego Associate Curator
Lauren Schell Dickens | San Jose Museum of Art Curator
Laurie Ann Farrell | Detroit Insitute of Arts Curator of Contemporary Art
Courtenay Finn | Aspen Art Museum Curator
Kathleen Goncharov | Boca Raton Museum of Art Curator of Exhibitions and Audience Engagement
Larissa Harris | Queens Museum Curator
Lauren Haynes | Crystal Bridges Associate Curator of the Permanent Collection
Christine Kim | LACMA Associate Curator of Contemporary Art
Miranda Lash | Speed Art Museum Curator of Contemporary Art
Nancy Lim | San Francisco Museum of Modern Art Assistant Curator of Painting and Sculpture
Kiki Mazzucchelli | Independent Curator
Fionn Meade | Independent Curator
Humberto Moro | SCAD Museum of Art Curator
Valerie Cassel Oliver | Virginia Museum of Fine Arts Curator of Modern and Contemporary Art
Maria Elena Ortiz | Perez Art Museum Miami Curator
Jane Panetta | Whitney Museum of American Art Associate Curator
Katie Pfohl | New Orleans Museum of Art Curator of Modern and Contemporary Art
Lauren Ross | Independent Curator
Jennifer Scanlan | Oklahoma Contemporary Arts Center Curatorial and Exhibitions Director
Raechell Smith | H&R Block Art Space Director & Chief Curator
Dominic Willsdon | San Francisco Museum of Modern Art Leanne and George Roberts Curator of Education & Public Practice
Margaret Winslow | Delaware Art Museum Curator of Contemporary Art