LIMITED EDITION PRINT BY DERRICK ADAMS
For information on the 2019 Limited Edition Print by Facility (Nick Cave and Bob Faust) CLICK HERE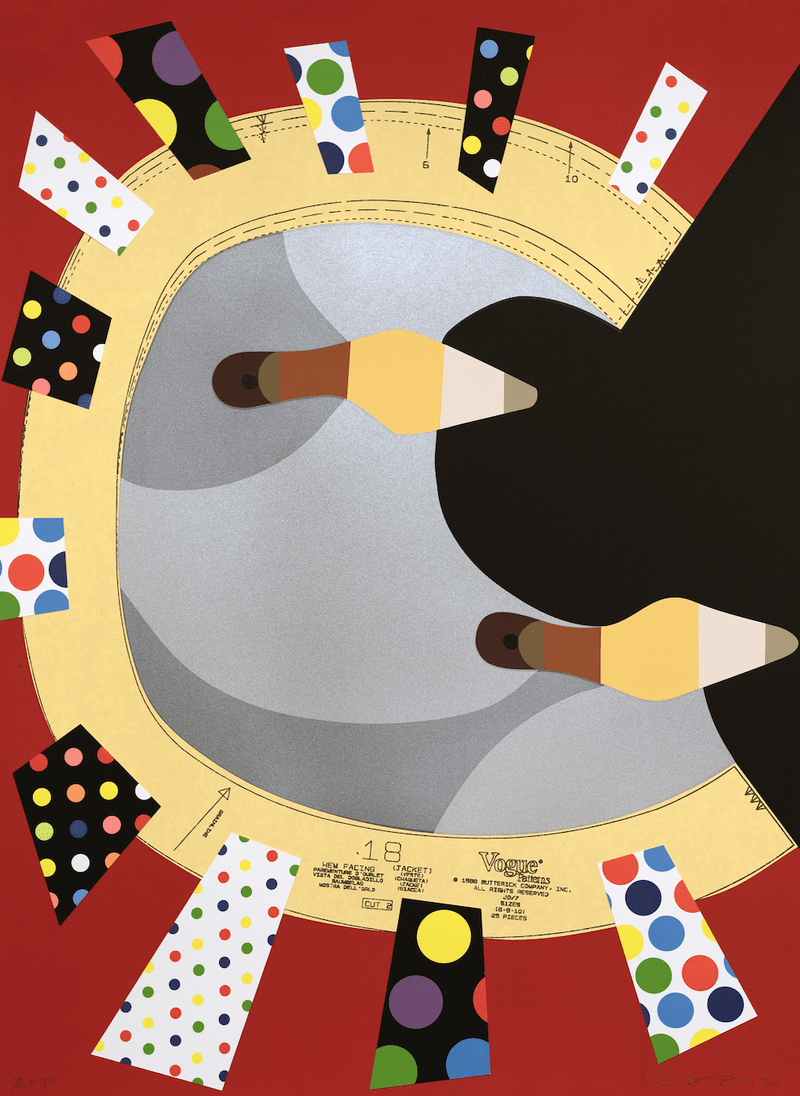 EXPO CHICAGO continues a tradition of producing an exclusive artist-designed, limited edition print to herald the ninth edition with a work by Derrick Adams titled Silver Lining.
For his 2017 inHarlem project in collaboration with The Studio Museum in Harlem, Adams carried out extensive research on Black design in fashion at the Schomburg Center for Research in Black Culture at the New York Public Library, culminating in a body of work entitled Mood Board. Silver Lining incorporates abstract collage, vintage clothing patterns, fabric, and bold, colorful forms to communicate Adams' interest in formalism, deconstruction, and fragmentation. Playing with perspective, viewers see the exposed lining and structure of the coat as seen from an imagined vantage point beneath the runway. The piece merges the visual vernacular of garment making with the frenetic energy of a runway show – an ode to legendary Black fashion.
Printed by Tandem Press, internationally renowned publisher of fine art prints. In collaboration with Rhona Hoffman Gallery.
> Read the full press release.
Price: $4,000 (plus shipping)
Residents of Illinois are subject to 10.25% Sales Tax
Sales will support EXPO CHICAGO's Curatorial Initiatives, which seek to promote the development of curators and foster dialogue between international artists, galleries, curators and institutions.
To reserve a limited edition print by Derrick Adams, please call 312-867-9220 or fill out the form below. An EXPO CHICAGO representative will follow up to confirm your payment and shipping information.