2023 in Review
EXPO CHICAGO Opening Night. Photo by Kyle Flubacker.
EXPO CHICAGO, the International Exposition of Contemporary and Modern Art, concluded its 10th anniversary edition on Sunday, April 16, with strong attendance of international collectors and more than 80 curators and museum directors alongside 32,000 visitors. The fair's most global edition to date saw exceptional presentations from exhibiting galleries and strong sales both onsite and through the official online viewing room. The exposition welcomed more than 8,500 VIP guests providing collectors, curators, museum directors, artists, and art professionals an exclusive first look at over 170 leading galleries from 36 countries and 90 cities throughout Navy Pier's iconic Festival Hall. Also on opening night, the Museum of Contemporary Art Chicago's Vernissage raised over $280,000 for the Museum's learning programs. EXPO CHICAGO will return to Navy Pier's Festival Hall on April 11–14, 2024.
Read more highlights from the 2023 edition of EXPO CHICAGO here.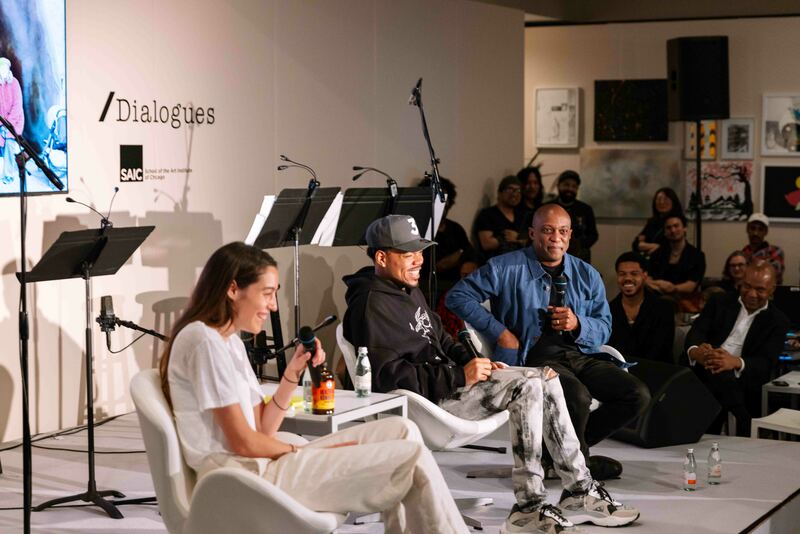 Presented in partnership with the School of the Art Institute of Chicago (SAIC), /Dialogues offered public panel discussions, conversations, and engaging artistic discourse between today's most respected arts professionals, including a conversation between Chance the Rapper and artist Hank Willis Thomas focused on catalyzing community through work with underrepresented artists and public art. Additional highlights of the 2023 /Dialogues program include a conversation with Madeleine Grynsztejn, alongside Dimitris Daskalopoulos, and Brendan Fernandes; a panel with the Center for Native Futures on building organizations for Native communities in the U.S. and Canada; a roundtable with the curators of the 2023 Venice Architecture Biennale's U.S. pavilion and members of the Floating Museum, 2023 Artistic Team of the Chicago Architecture Biennial; a talk with Richard Bell focused on protest art and his practice; and a discussion between Hamza Walker and Lisa Graziose Corrin on Walker's upcoming exhibition MONUMENTS.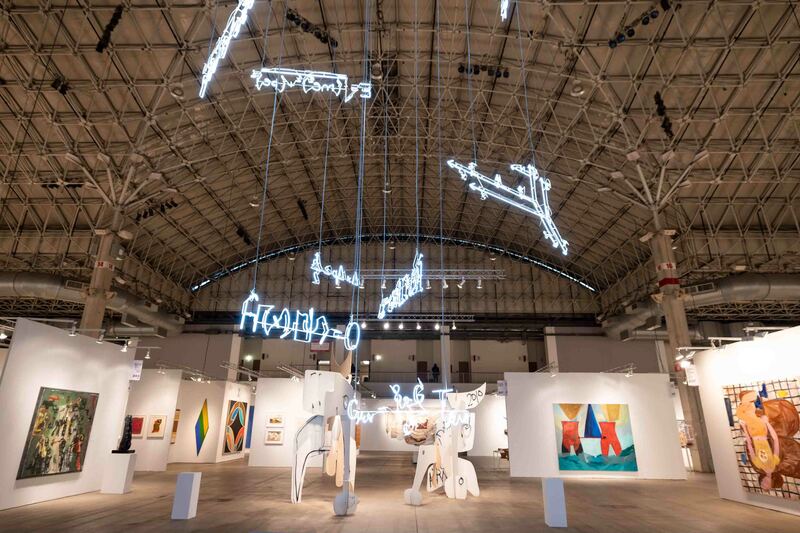 Curated by Claudia Segura (Curator of Exhibitions and Collection at Museu d'Art Contemporani de Barcelona [MACBA]) and entitled Y el mar tomó la palabra (And the sea spoke), IN/SITU featured 16 large-scale sculptures, installations, paintings, drawings, and site-specific works installed throughout Festival Hall.

Featuring work of Carlos Alfonso (Casas Riegner, Bogotá), Richard Bell (OSMOS; New York, Stamford), Julien Creuzet (DOCUMENT; Chicago, Lisbon), Jeanne Gaigher (Southern Guild, Cape Town), Andrea Galvani (CURRO, Guadalajara), Paul Mignard (Galerie Poggi, Paris), Ebony G. Patterson (moniquemeloche, Chicago), Sun Ra (Corbett Vs. Dempsey, Chicago), Carlos Rolón (Hexton Gallery, Aspen), Nep Sidhu (Patel Brown; Toronto, Montreal), and Rosario Zorraquin (Isla Flotante, Buenos Aires).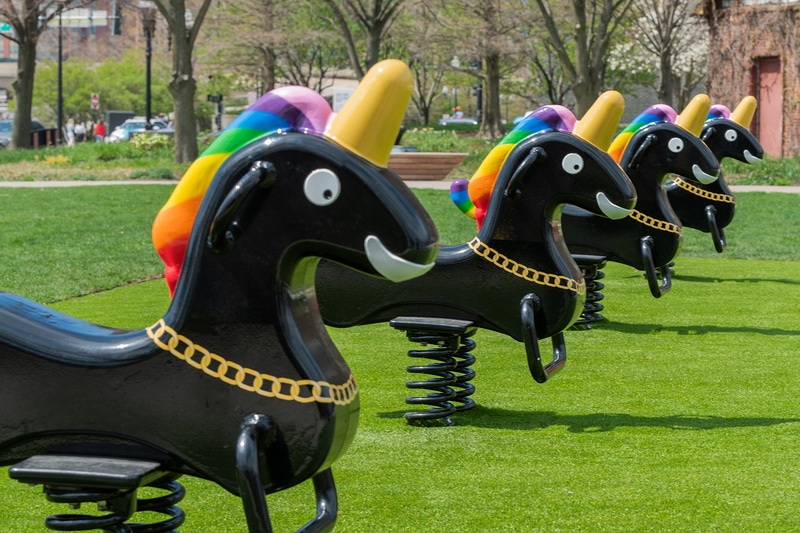 In partnership with the Chicago Park District and the Department of Cultural Affairs and Special Events (DCASE), IN/SITU Outside presented Derrick Adams' Funtime Unicorns; Hank Willis Thomas and Coby Kennedy's upcoming sculpture REACH; The Garden, a large-scale inflatable sculpture by The Floating Museum, the Artistic Team of the 2023 Chicago Architecture Biennial; Oscar Tuazon's sculpture Natural Man in partnership with Luhring Augustine; and Nancy Baker Cahill's augmented reality work STONE SPEAKS, viewable by QR code over the water's edge at Chicago Horizons. Additionally, across Chicago, 12 new photographs by Aïda Muluneh are on view on JCDecaux bus shelters as part of Public Art Fund's exhibition This is where I am.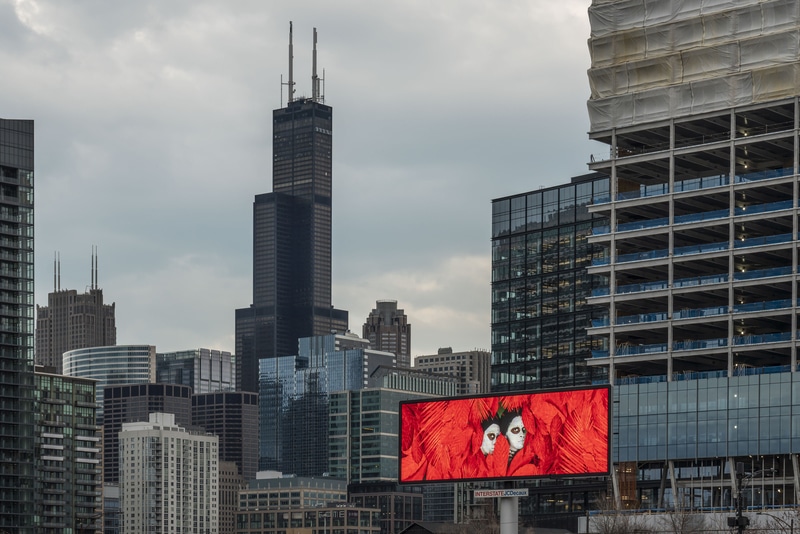 OVERRIDE, organized in collaboration with Chicago's Department of Cultural Affairs and Special Events (DCASE), once again presented the work of artists from local, national and international galleries exhibiting at EXPO CHICAGO alongside unrepresented Chicago-based artists throughout more than 60 digital billboards that make up Chicago's City Digital Network and City Information Panels "CIPs" in the Central Business District. Participating artists included Lola Ayisha Ogbara, Ceargio Bagenda, Pelle Cass (Foto Relevance, Houston), Rico Gatson, Kristin McWharter, Esmaa Mohamoud (Kavi Gupta, Chicago), Aïda Muluneh (Public Art Fund; Jenkins Johnson Gallery, San Francisco, New York), Max Sansing, Eddie Santana White aka "Edo", and Stephanie Syjuco (Ryan Lee Gallery, New York; Catharine Clark Gallery, San Francisco). The citywide public art initiative launched April 3 and is on view through April 23.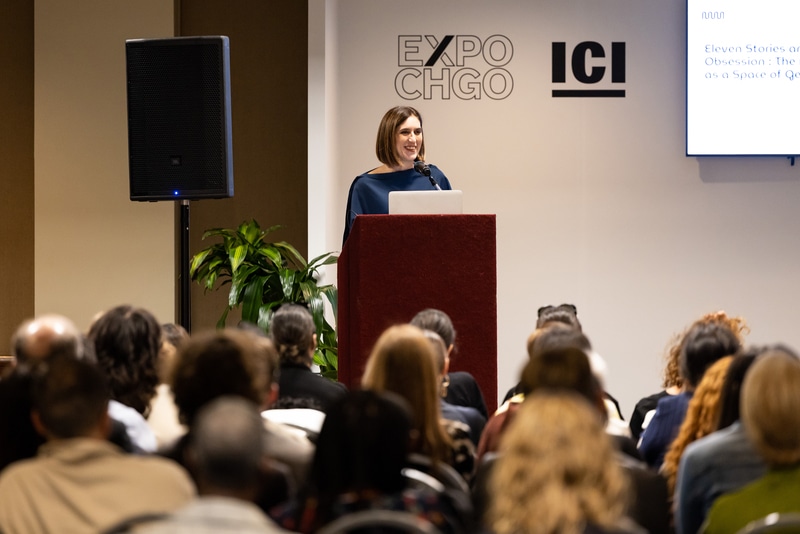 The annual Curatorial Forum, hosted in partnership with Independent Curators International (ICI), drew curatorial leaders nationwide to the exposition, welcoming close to 50 mid-career and established curators for the eighth year. The Forum gathered a cohort of leading curators, working independently or with an institutional affiliation, providing the opportunity to engage with their peers and explore significant issues relating to curating, programming, institution-building, and audience engagement. The Forum included a series of closed-door sessions at 21c Museum Hotel Chicago and included a keynote presentation by Victoria Noorthoorn, Director of Museo Moderno, Buenos Aires.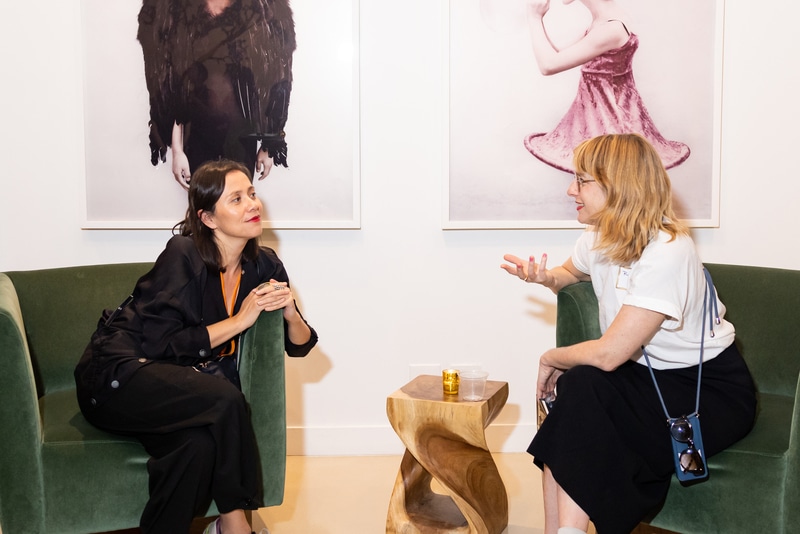 The annual Curatorial Exchange, developed in partnership with foreign consulates and cultural agencies, is a leading international initiative and one of the only in the nation that is focused on funding global curator convenings that foster future collaborations for curators on the local, national, and international level. The 2023 edition of EXPO CHICAGO welcomed the fourth annual and largest-ever Curatorial Exchange, offering 23 select mid-career and established curators from 13 countries the opportunity to engage closely with their peers through a four-day program that included integration with the Curatorial Forum, two closed door sessions hosted at the Art Institute of Chicago, and visits to artist studios, museums, and institutions during EXPO CHICAGO. In addition, 2022 Curatorial Exchange participant Jeanette Bisschops curated Michele Rizzo's performance HIGHER xtn. as a part of her on-site EXPO VIDEO exhibition.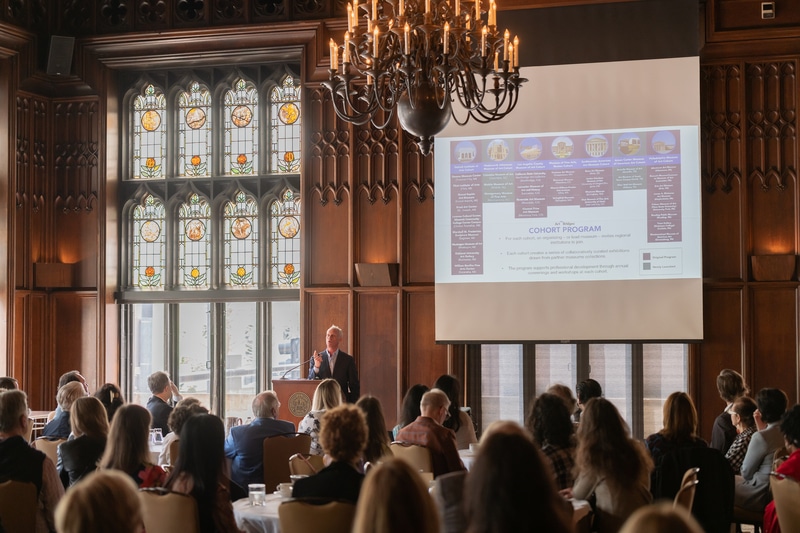 The second iteration of the Directors Summit brought together a diverse group of museum leaders from across the country for a three-day series of conversations addressing the future of museum leadership and institutional reinvention. Shaped in partnership with museum consultant Jill Snyder, the Directors Summit centered on two public roundtable discussions that examined how to forge an equitable and sustainable movement forward for art museums and institutions. The summit included a keynote lecture at the University Club of Chicago by Paul R. Provost, founding CEO of Art Bridges, an innovative arts foundation launched by philanthropist and arts patron Alice Walton. The 2023 Directors Summit was supported by Sotheby's, in addition to Risk Strategies and the University Club of Chicago.
EXHIBITOR TESTIMONIALS
"We had an outstanding year at EXPO CHICAGO, the fair was back in full force with a seemingly endless number of museum groups coming by throughout the weekend. We sold major works by Max Ernst and James Nares, alongside numerous contemporary works by Theodora Allen, Sara Anstis, Liam Everett, Vanessa German, and many more."
— Eric Gleason | Kasmin Gallery
"The quality of the institutional audience that EXPO CHICAGO delivers is impossible to beat. Curators and directors came through every day, and we not only continued existing relationships, we forged some very important new ones."
— Lauren Wittels | Luhring Augustine
"It was such a pleasure to return to EXPO CHICAGO this year! As always we had an amazing experience connecting with local collectors and institutions."
— Kevin Scholl | Vielmetter Los Angeles
"As a first time exhibitor, Southern Guild felt and appreciated the support of EXPO CHICAGO and the Chicago art community at large. The fair sparked important conversations and fostered the start of meaningful relationships. We were thrilled to experience the warmth of Chicago with five of our artists who traveled with us, and we look forward to building on this enriching engagement."
— Trevyn McGowan | Southern Guild
"We are so grateful to be the recipient of this year's Northern Trust Purchase Prize at EXPO CHICAGO, not only is it an important endorsement of Claudia Peña Salinas' practice but it represents crucial support for a small independent operation like our gallery to continue promoting the work of artists like Claudia who expand the language of contemporary art and shed light on new accounts of influence and historical knowledge."
— Manuela Paz | Embajada