2022 in Review
EXPO CHICAGO 2022. Photo by Kevin Serna.

EXPO CHICAGO, 2022. Courtesy of FRONT International. Photo by Justin Barbin.

EXPO CHICAGO 2022

Directors Summit | Imagining the Future: Part II on the /Dialogues stage at EXPO CHICAGO 2022.
EXPO CHICAGO concluded its ninth edition with record attendance of international collectors and curators alongside 30,000 visitors, exceptional presentations from exhibiting galleries and strong sales, in what was its most global edition to date. On opening day alone, the exposition welcomed more than 8,000 VIP guests while raising $260,000 to benefit the Museum of Contemporary Art Chicago during Vernissage. Collectors, curators, artists and art enthusiasts enjoyed an exclusive first look at 140 leading galleries from 25 countries and 65 cities throughout Navy Pier's iconic Festival Hall.
EXPO CHICAGO welcomed back many returning galleries for 2022 as well as several new additions, whose curated and ambitious presentations drew critical praise. Exhibitors both new and returning noted that they received strong support from both nationally and internationally renowned collectors, museum curators and institutions, along with the greater Midwest collector base.
Read more highlights from the 2022 edition of EXPO CHICAGO here.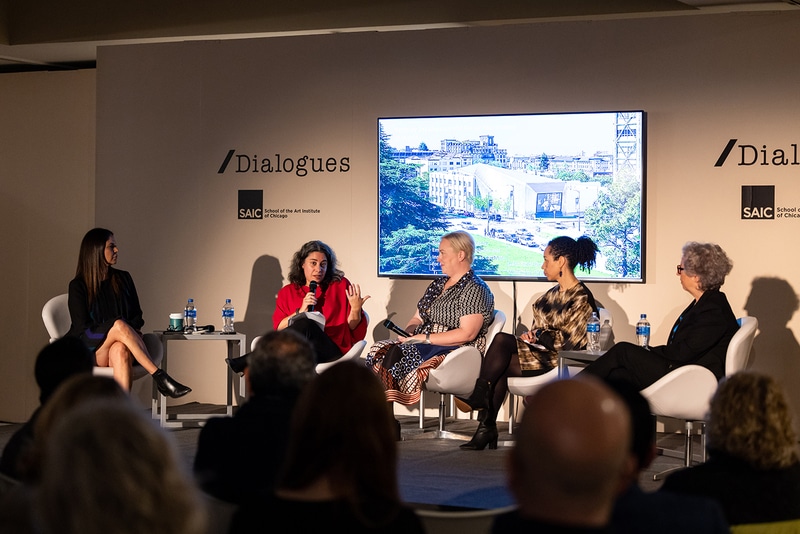 Presented in partnership with the School of the Art Institute of Chicago (SAIC), /Dialogues offers panel discussions, conversations and provocative artistic discourse with leading artists, curators, designers, and arts professionals on the current issues that engaged them.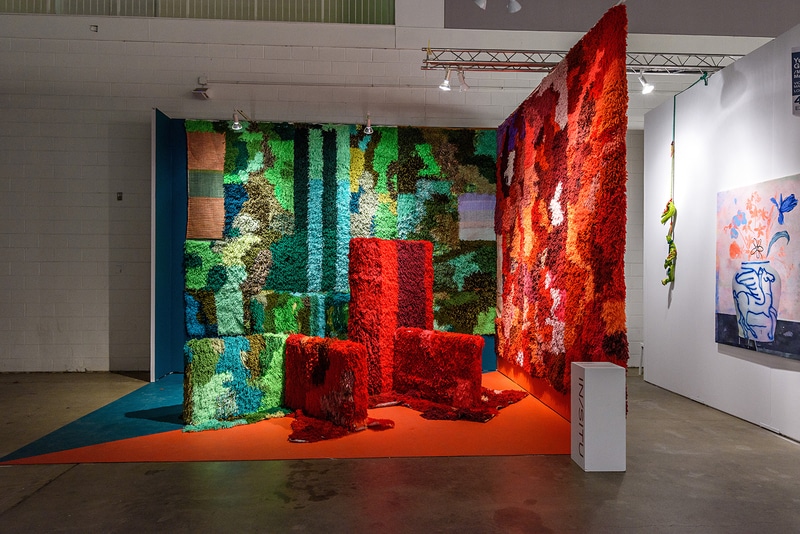 Installed throughout Festival Hall, IN/SITU features large-scale sculpture, and site-specific works.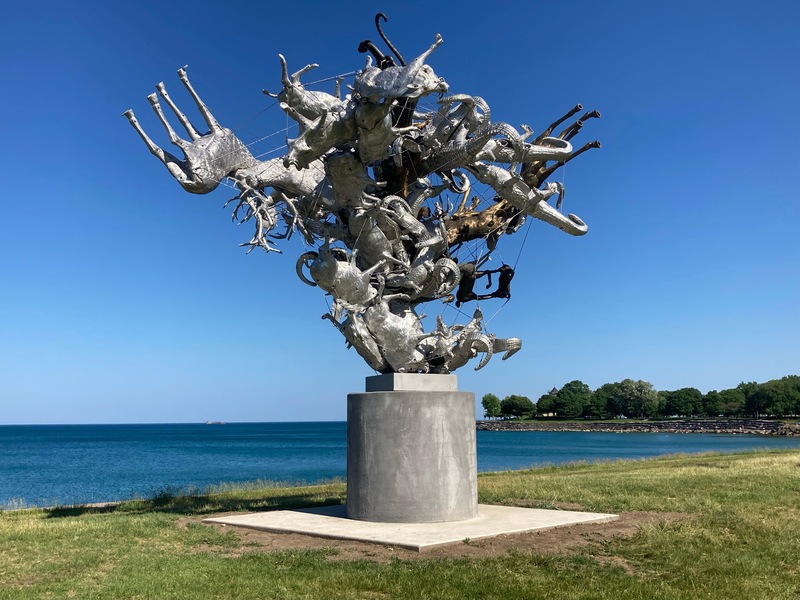 Engaging the city's long legacy of pioneering public art, EXPO CHICAGO presents major initiatives presented in collaboration with the City of Chicago's Department of Cultural Affairs and Special Events (DCASE), the Chicago Park District, and Navy Pier to highlight work by internationally recognized artists.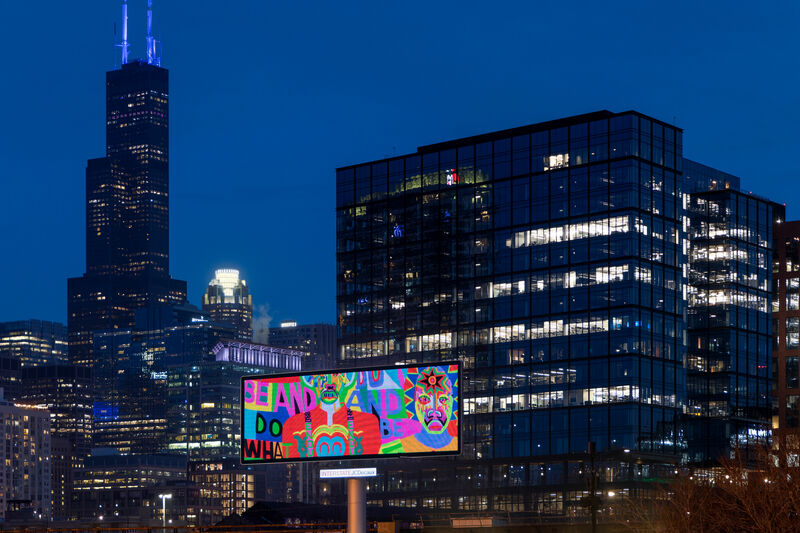 A Billboard Project is a citywide collaborative public art initiative between EXPO CHICAGO and the City of Chicago's Department of Cultural Affairs and Special Events (DCASE) in collaboration with the Chicago Digital Network to exhibit artwork on all CDN billboards.
The Curatorial Forum offers a group of mid-career and established curators, working independently or with an institutional affiliation, the opportunity to engage with their peers and explore urgent issues related to curating, programming, institution-building and audience engagement.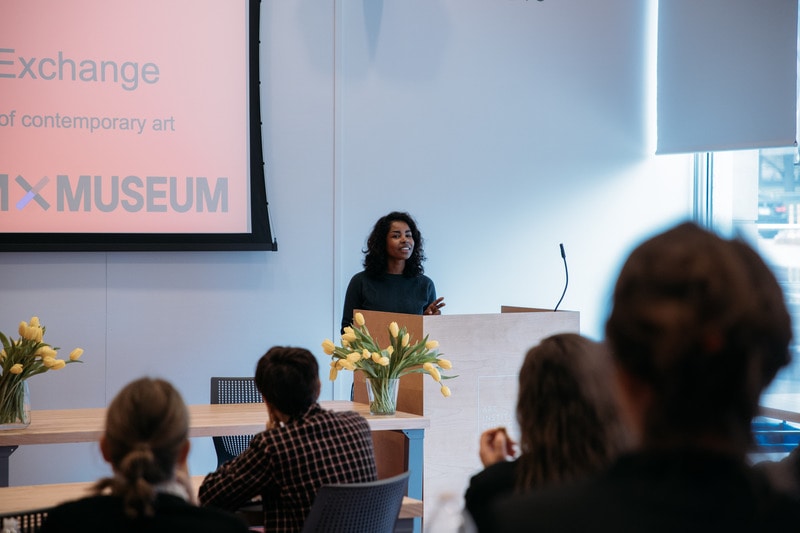 The Curatorial Exchange provides mid-career and established curators working internationally the opportunity to engage with their peers as well as international exhibitors, local galleries, cultural institutions and Chicago-based artists.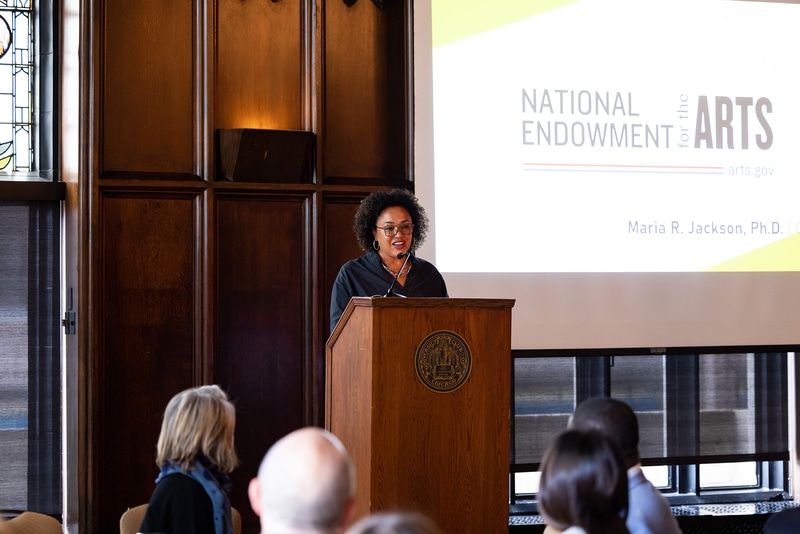 The inaugural Directors Summit in 2022 brought together a diverse group of emerging art museum leaders from across the United States for a three-day program addressing the shifting dynamics of museum leadership today.
EXHIBITOR TESTIMONIALS
"We were so happy to be a part of the fair this year. EXPO CHICAGO always hosts such thoughtful collectors and curators, and this edition was no exception. We placed major works by Summer Wheat, Daniel Gibson, and Cammie Staros on opening day, with several pieces going to local Chicago collections. Thanks to the fair's curatorial programs, we had meaningful conversations with Chicago- based curators and those traveling for the fair, and we were able to present a significant sculpture by Naama Tsabar in the fair's IN/SITU program."
— Seth Curcio | Shulamit Nazarian
"It's been great to return to EXPO CHICAGO. We made strong sales to numerous good collectors, not only from the Midwest, but from all over the United States. In particular, we launched and sold out a major new suite of works by Julian Opie as well as multiple works by Josef Albers, Michael Craig-Martin, Ian Davenport, and Idris Khan."
— David Cleaton-Roberts | Cristea Roberts Gallery
"This year's EXPO CHICAGO was a long-awaited and much- needed reunion of galleries, collectors, artists, and curators and was a boost to the entire city of Chicago. The public programming was the strongest ever and contributed to the overall success of the fair."
— Valerie Carberry | Richard Gray Gallery